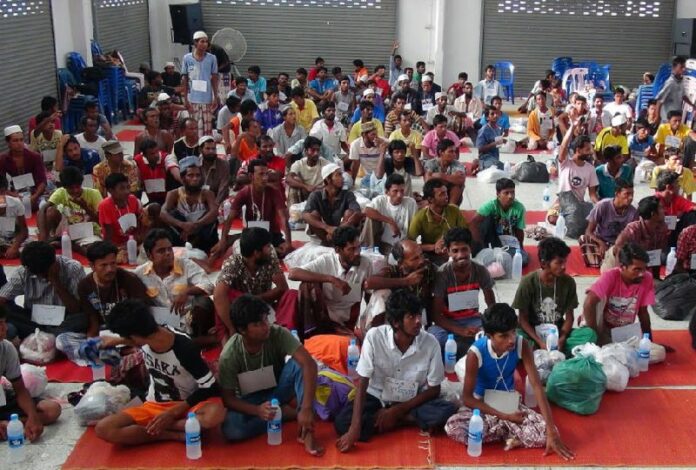 SONGKHLA — Police in southern Thailand say they have arrested four suspected human traffickers who attempted to pose as Rohingya refugees.
The four men, who police encountered in a wooded area in Songkhla province, initially told security officers via an interpreter that they were abandoned Rohingya refugees, police said. However, other rescued refugees at a temporary shelter in the province identified the four men as traffickers who were responsible for their plight, police officers said.
The four suspects are reportedly being detained at Rattaphum Police Station for further interrogation.
Police have rescued approximately 240 refugees in Songkhla province over the past week in a sweep of the region. Officers said many of the migrants appear to be Rohingya, a persecuted Muslim minority from Myanmar, but that the identification process is ongoing.
Yesterday, 152 refugees, including eight women, were rescued after wandering in the jungle for ten days, police said. Some of the refugees reportedly had beating marks on their bodies.
Thai security officers have also discovered several abandoned jungle camps over the past week in Songkhla's Padang Besar district, with the first and largest camp uncovered on 1 May. The sites are believed to have been used by human traffickers to hold Rohingya refugees for ransom. Mass graves and at least 30 corpses were also found near the camp sites, which are located deep in the jungle near the Thai – Malaysian border.
A total of 49 arrest warrants have been issued in connection to the suspected human trafficking network, said Pol.Gen. Aek Angsananont, deputy commander of Royal Thai Police. Pol.Gen. Aek said 10 suspects have been arrested so far.
Around 150 security officers also raided five houses in Songhkla province to search for evidence connected to the human smuggling network. Pol.Maj.Gen. Montri Potranant, commander of Ninth Region Police, said police confiscated firearms and financial documents, which are being analyzed by officials from the Anti-Money Laundering Office (AMLO).
On the same day, the ambassador of Bangladesh, where around 300,000 Rohingya refugees live, visited officials in Songkhla and urged them to step up the fight against human trafficking. The ambassador, Saida Muna Tasneem, said Bangladesh is willing to cooperate with Thailand to solve the issue, officials told reporters.
The Rohingya are considered by the United Nations to be one of the world's "most persecuted" minorities.
Since 2012, tens of thousands of Rohingyas have fled ethnic and religious violence in Buddhist-majority Myanmar, where they are denied citizenship. Many refugees headed for Muslim-friendly Malaysia have been exploited by traffickers and held in Thai detention camps for ransom, or sold as slaves. For years, Thai authorities have largely turned a blind eye to the practice.
Last June, the United States government downgraded Thailand to the lowest rank in its annual Trafficking In Persons (TIP) report for failing to meet the minimum standards to combat trafficking.
Thailand's military government, which came to power a month before the downgrade, says that eradicating human trafficking is national priority.