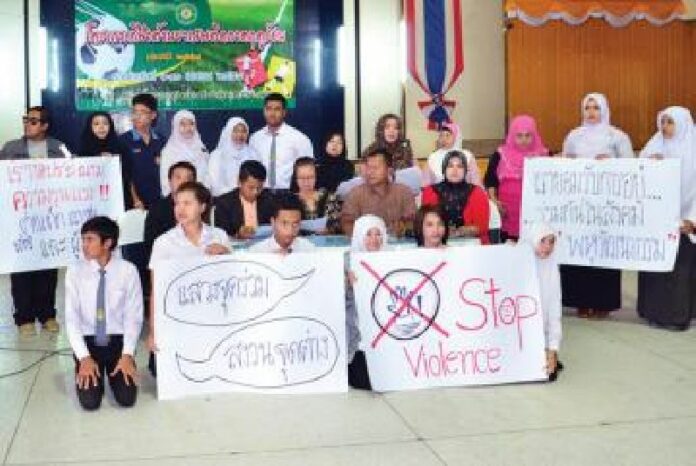 PATTANI — A soldier abruptly opened fire on fellow squad members at a military base in the southern border province of Pattani last night, killing two people, police say.
One soldier and one volunteer ranger were killed in the shooting, which took place at the headquarters of the 4201 Ranger Company in Yaring district at around 10.00 pm on 9 May, said Pol.Col. Montri Kongwatmai, superintendent of Yaring Police Station. The base is jointly run by the army and paramilitary ranger force.
According to Pol.Col. Montri, 57-year-old Master Sergeant Somkuan Poomsomdee suddenly grabbed an M-16 assault rifle, walked to the room where other officers were relaxing and began shooting.
"Other soldiers heard the gunfire and ran to help [the victims], but it was too late," Pol.Col. Montri said. "They could only shout at him to drop his weapon."
Sgt. Somkuan eventually laid down the firearm and surrendered to police, Pol.Col. Montri said. Police are investigating the incident, he said.
Shootouts occasionally occur between the more than 60,000 soldiers, police officers, and rangers stationed in Thailand's southern border provinces to combat a local separatist movement.
In December 2014, a ranger was arrested after he allegedly shot and killed an army sergeant at a checkpoint in Pattani. Police say the pair was having heated argument before the shooting started.
More than 6,200 people have died in the region, known as the Deep South, since the secessionist violence broke out in January 2004, according to data compiled by human rights groups.
The shadowy network of insurgents is aiming to revive the independent Islamic state of Pattani, which was annexed by Thailand in the early 20th century.
Former ranger murdered
Meanwhile, police say a former ranger was shot dead by unidentified gunmen in Yi-ngo district at around 9.15 am today.
Mahamasukree Yitoso, 40, used to serve in the 45 Ranger Division and was discharged from duty in 2012, police told reporters.
According to police, witnesses said they saw two gunmen on a motorcycle park next to Mahamasukree's car and pretend to ask him for directions.
Once Mahamasukree was distracted, one of the gunmen shot him point-blank with 9 mm handgun at least 9 times, police say. The perpetrators then reportedly fled the scene.
Authorities have not determined the motive behind the deadly shooting.