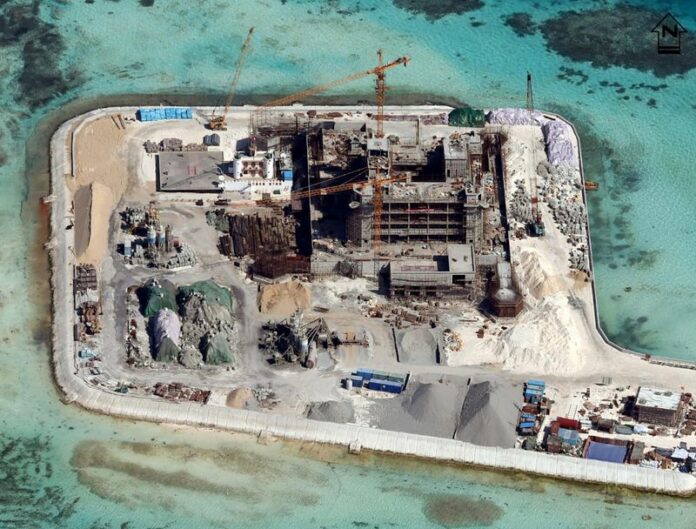 WASHINGTON (DPA) — China has started to develop infrastructure on four of the five islands it has expanded through land reclamation among the Spratly Islands, but Beijing's intentions are not clear, the Pentagon said Friday.
By late December, China had reclaimed about 200 hectares at five outposts in the hotly disputed region and has launched infrastructure development on four of them, the Defence Department said in an annual report to Congress on China's military.
China has delivered "scores of heavy construction equipment" to all five reclamation sites, the Pentagon said.
"China will be able to use [the sites] as persistent civil-military bases of operation to enhance its presence significantly in disputed areas," US defence officials wrote in the 89-page report.
Last month, satellite images released by IHS Jane's Defence Weekly provided the first concrete evidence that China has begun building a 3,000-metre runway on Fiery Cross Reef in the archipelago.
Land reclamation is only one of the areas where China is seeking to expand its global footprint and extend its operational reach to "push adversary forces including the United States" farther from potential regional conflicts, the Pentagon said.
It cited China's diverse missile developments, offensive cyber operations, counter-space activities and electronic warfare capabilities as having the potential "to reduce core US military technological advantages."
In the short term, however, it is the simmering tensions in the South China Sea that have drawn most of the world's attention as the US strengthens its role as an Asian-Pacific power – and has repeatedly warned that China's land reclamation undermines peace and stability in the South China Sea and the Asia-Pacific region.
China lays claim to more than 80 per cent of the South China Sea and its potentially oil-rich islands, putting it in conflict with overlapping claims by the Philippines, Vietnam, Malaysia, Brunei and Taiwan.
In 2014, anti-China riots broke out in Vietnam over China's deployment of an oil rig in waters claimed by both countries. Vietnamese fishing boats were reportedly sunk by Chinese vessels.
In April, two US warships conducted five days of joint naval drills with Vietnamese forces with an emphasis on unplanned encounters.
Last month, the US and the Philippines held one of their largest joint military exercises in years. Philippine military chief General Gregorio Pio Catapang charged that China's reclamation activity had damaged the ecological balance, destroyed 120 hectares of coral reef systems and cost the Philippine economy 100 million dollars in losses every year.
The Group of Seven (US, Britain, France, Japan, Italy, Germany and Canada) in March warned of the increasing tensions due to China's land reclamations. China rebuffed the warning and demanded respect for its efforts to maintain the region's peace and stability.
The Pentagon cited China's explanation that the island projects were intended to improve the living and working conditions of those stationed on the island.
"However, most analysts outside China believe that China is attempting to change facts on the ground by improving its defense infrastructure in the South China Sea," the Pentagon wrote.
(Reporting by Pat Reber)