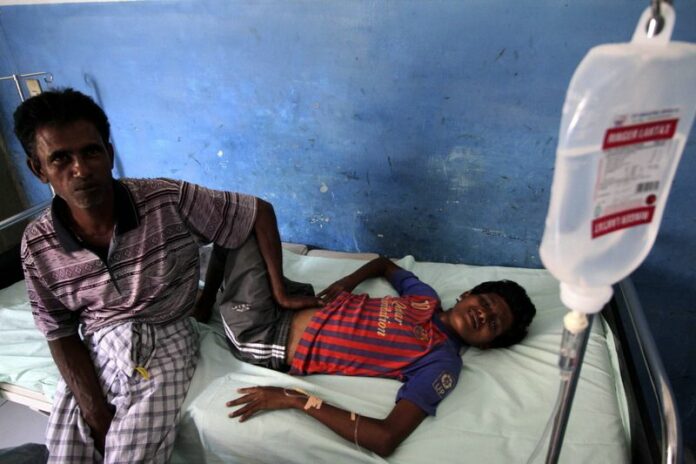 JAKARTA/KUALA LUMPUR (DPA) – More than 1,500 migrants were rescued or rounded up by police after arriving by boats in Malaysia and Indonesia over the weekend, officials said Monday.
In Malaysia, 1,018 migrants suspected to be from Myanmar or Bangladesh were found in two operations Sunday on the island of Langkawi, about 400 kilometres north of Kuala Lumpur.

Rohingya Muslim migrants originating from Myanmar eat breakfast as they are sheltered in the sport stadium of Lhok Sukon, North Aceh, Sumatra, Indonesia, 11 May 2015.
Abdullah said the operations took place in separate parts of the island.
"All those who have been arrested will be sent to the detention centre," Langkawi police chief Yusof Abdullah said.
Police were still searching Langkawi and the surrounding area for more illegal migrants which may be hiding there.
Marine police will try to slow the influx of illegal migrants to Langkawi following a clampdown in the more usual destination of Thailand, Yusof said.
There are more than 151,000 refugees in Malaysia, 94 per cent of whom are from Myanmar, according to the government.
Rohingya refugees line up for breakfast in the sport stadium of Lhok Sukon, North Aceh, Sumatra, Indonesia, 11 May 2015.
In neighbouring Indonesia, nearly 550 "hungry and depressed" people were rescued off Indonesia's Aceh province over the weekend, according to Tegas, an immigration official in North Aceh.
The refugees, believed to be ethnic Rohingyas from Myanmar and Bangladeshis, were sheltering in a sports hall in North Aceh after their boat was found drifting at sea on Sunday.
"There is not enough food, even though the local social office and people are already helping," Tegas said. "They are tired, depressed and need to eat and drink because they were at sea for quite some time."
Rohingya Muslims have suffered decades of state-sanctioned discrimination and ethnic violence in Myanmar, and many thousands have fled to Malaysia or Indonesia via Thailand.
(Reporting by Ahmad Pathoni)