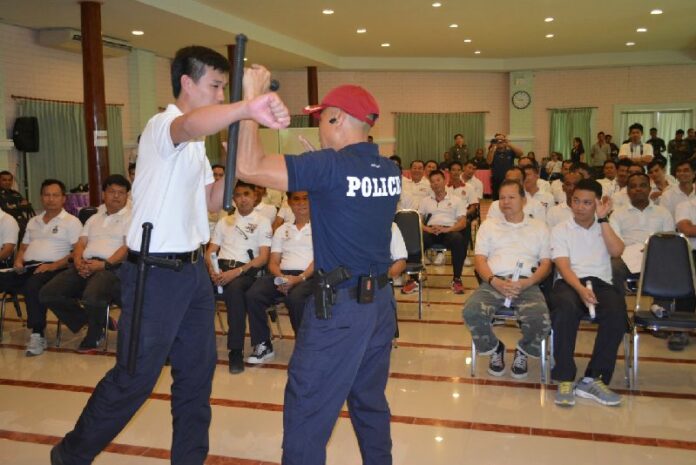 PRACHUAP KIRI KHAN — The Royal Thai Police say they have started equipping officers with batons as an alternative to firearms, in an effort to provide police with protection but avoid excessive violence.
According to police, the first batch of side-handle batons, called PR-24, were issued to police stations in the Seventh Region, which includes the southwestern provinces of Kanchanaburi, Nakhon Pathom, Prachuap Kiri Khan, Petchaburi, Ratchaburi, Samut Songkram, Samut Sakorn, and Suphanburi.

Police held a demonstration of how to wield batons in Prachuap Kiri Khan province, 11 May 2015.​
On duty police officers are normally either unarmed or equipped with guns, said Pol.Maj.Gen. Weerapong Chuenphakdee, commander of the Seventh Region Police. He said he believes the batons will allow police officers to defend themselves without resorting to firearms.
"Every day, many types of incidents occurred. Patrol police officers on duty are the first people to arrive at the crime scene," Pol.Maj.Gen. Weerapong explained, citing incidents in which unarmed police were unable to defend themselves against criminals with knives and other weapons. "If police use firearms, society will think we acted excessively."
The police force organized a demonstration of how to wield the batons for 80 high-ranking officers today. Pol.Maj.Gen. Weerapong said the officers will then teach the technique to their subordinates.
Each police station will receive 12 batons, he said.
On 15 March, a motorcyclist was shot dead by a police officer near a checkpoint in Chonburi province. The officer, Police Senior Sergeant Major Suphan Chamnit, initially said the victim crashed his motorcycle and died from injuries caused by the accident.
However, an investigation determined that Suphan fired his handgun at the motorcyclist. The officer was arrested on charges of premeditated murder.