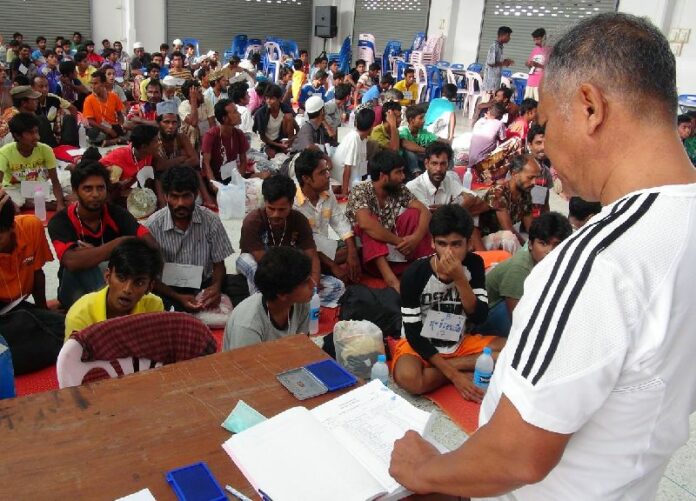 BANGKOK — Thai junta chairman Gen. Prayuth Chan-ocha said the government is "in talks" about potentially opening refugee camps for Rohingyas who have fled ethnic persecution in Myanmar.
"We are discussing it," Gen. Prayuth said, "because in order to do anything, we have to consider many aspects, such as national security, because our main goal is to take care of Thai people. But human rights cannot be denied either."

Rohingya and Bangladeshi migrants are processed by authorities in Songkhla province on 10 May 2015.
The commander of the Royal Thai Police, Pol.Gen. Somyot Pumpangmuang, suggested setting up the camps yesterday in response to the nearly 300 refugees that have been rescued by police in southern Thailand over the past twelve days. The refugees appeared to have been abandoned by their smugglers after word spread of Thai police's crackdown on trafficking operations in the region.
Tens of thousands of Muslim Rohingyas have fled Myanmar, where they are denied citizenship, to escape violent persecution by radical Buddhists that erupted in 2012. Around 300,000 stateless Rohingya are also estimated to live in destitute refugee camps in bordering Bangladesh. Many refugees have paid smugglers to ferry them to other countries, such as Muslim-friendly Malaysia, only to be exploited by traffickers in Thailand who hold them for ransom or sell them into slavery.
In the past, Rohingyas intercepted by Thai authorities have been tried in court on charges of illegal entry and deported. Since neither Myanmar nor Bangladesh authorities recognize Rohingyas as citizens, many refugees have languished in temporary shelters as authorities struggle to solve the legal limbo.
Pol.Gen. Somyot's remark yesterday was the first time a high-ranking Thai official has suggested an alternative policy for dealing with the influx of Rohingya migrants.
Speaking to reporters today, Gen. Prayuth said he would also consult the governments of neighboring countries and international organizations about how to proceed with the refugee crisis. Currently, Rohingyas who enter Thailand without permission "will be handled in accordance with the laws," the general said.
"Thailand is only a transit country," Gen. Prayuth said. "The destination countries are not Thailand. It's a transnational crime movement. We are only involved as a transit country. So we have to solve problems by asking for cooperation from other countries."
Since the crackdown on Thai soil began earlier this month, the number of migrants arriving by boat to other Southeast Asian countries has surged. Over the weekend, more than 1,500 migrants from Myanmar and Bangladesh were rounded up by police after arriving in Malaysia and Indonesia.
An official from the International Organization for Migration said today that at least 8,000 migrants are believed to be stranded off shore.
Meanwhile, Anusit Kunakorn, director of the National Security Council (NSC), told Thai News Agency that he believes establishing refugee camps for Rohingyas in Thailand may "affect national security."
"I believe the problem about Rohingyas must be solved by many countries together. This is not a burden of Thailand," Anusit was quoted as saying. "The origin and destination countries, including the United Nations, have to solve this problem together."
Anusit also said the Thai government should address the root causes of the crisis and focus on persuading the Myanmar government to be more tolerant of the Rohingyas.
Read more: