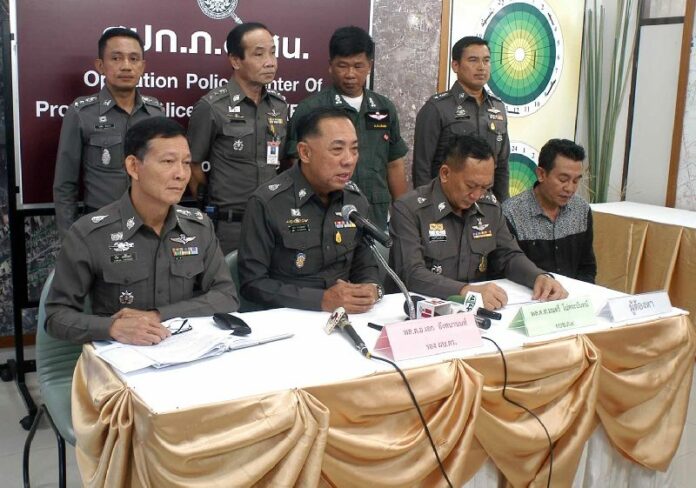 BANGKOK — Thai authorities say they have seized more than 200 million baht in assets from a network of alleged human traffickers operating in southern Thailand.
The assets, worth approximately 204 million baht, were seized from suspects in Ranong, Satun, and Nakhon Si Thammarat provinces this week, said Pol.Gen. Aek Angsananont, deputy chief of Royal Thai Police.
Thailand's Anti-Money Laundering Office (AMLO) is currently looking for any evidence that links the assets to human trafficking operations in the region.

The fifth and largest refugee detention camp found by police in the jungle in Songkhla, 12 May 2015.
After discovering a detention camp and mass grave of Rohingya corpses in the jungle near the Thai-Malysian border on 1 May, Thai authorities have launched an unprecedented crackdown on the well-established human smuggling operation in southern Thailand.
Over the past two weeks, four more large camps and at least 70 smaller sites have been found in the mountainous border region.
Police believe the camps were used by brokers to detain Rohingya and Bangladeshi refugees and demand hefty ransom fees from their relatives before smuggling them into Malaysia.
Local Thai officials have historically offered protection to the human smugglers by looking the other way in exchange for bribes.
Sixty-one arrest warrants have been issued in connection with the trafficking network since the beginning of the month, said Pol.Maj.Gen. Paween Pongsirin, deputy commander of Eighth Region Police. Twenty-six people have been arrested so far, with the latest suspect surrendering to police this morning.
Several of the suspects are local Thai officials, including the mayor of Songkhla's Padang Besar district, where many of the camps are located.
Police say the ringleader of the regional trafficking network is Patchuban Angchotipan, aka Ko Tong, a former local administrative official and resort owner in Satun province who is still on the run.

Rohingya and Bangladeshi migrants are processed by authorities in Songkhla province on 10 May 2015.
Since the crackdown, security officers have encountered at least 276 refugees in Thailand who were left to fend for themselves after they were reportedly abandoned by their brokers. Many of the migrants showed signs of physical abuse and malnutrition. Some survivors of the camps said traffickers beat and even murdered captives whose families refused to send money.
Many of the refugees have been identified as Rohingya Muslims, a persecuted minority from western Myanmar. The others hail from Bangladesh, where an estimated 300,000 Rohingyas live in impoverished refugee camps.
The United Nations' refugee agency estimates that 25,000 people fled Myanmar and Bangladesh on boat in the first quarter of 2015, a number twice as high as the same period last year. The majority of those people were brought to jungle camps in Thailand, where starvation, beatings, and other abuse was common, according to the UN report.
The crackdown on Thai soil has disrupted traditional smuggling routes in the region and spurred many traffickers to abandon their ships at sea. Nearly 2,000 migrants have landed in Malaysia and Indonesia in the past week, and an estimated 8,000 are thought to be stranded off shore, as countries in the region hesitate to tackle the mounting humanitarian crisis.
Pol.Maj.Gen. Paween said officers and their interpreters are questioning the suspected trafficking victims intercepted by police Thailand, whose testimonies will be used as evidence against the suspects facing trafficking charges.
Meanwhile, security officers raided five properties in Satun province to look for five suspects charged with human trafficking, but the suspects had already fled their homes.