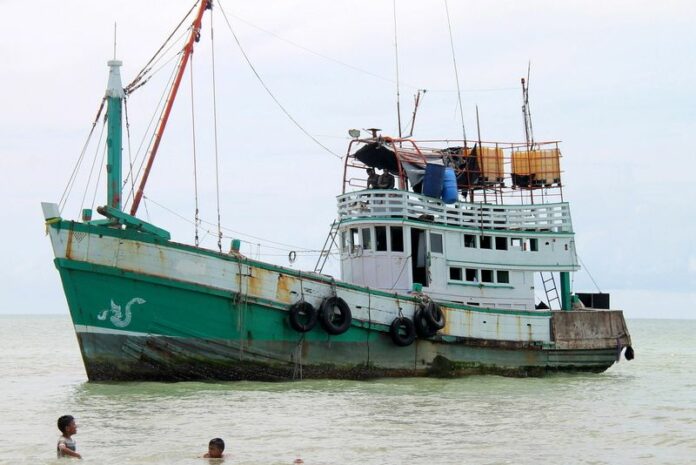 KUALA LUMPUR (DPA) — Malaysia has strengthened its sea patrols and begun blocking boats suspected of carrying illegal migrants, a senior official said Thursday, amid an influx of arrivals from Myanmar and Bangladesh.
"Vessels carrying illegal migrants will not be allowed to enter Malaysian waters," the director general of Malaysia's Maritime Enforcement Agency (MMEA), Amdan Kurish, told a press briefing.

A traditional Thai style fishing boat which was used by Myanmar Rohingya refugees, stranded in Seunedon village of North Aceh, Sumatra, Indonesia, 11 May 2015. EPA/STR
The intensified sea patrols, enacted Tuesday, come after more than 1,000 Myanmar Rohingya and Bangladeshi landed in the northern island of Langkawi earlier in the week.
Amdan said there were persistent reports that more vessels carrying Rohingya and Bangladeshi migrants were heading for Malaysia.
Maritime officials declined to confirm media reports that two vessels carrying hundreds of Rohingya and Bangladeshi migrants that attempted to land in the northern islands of Penang and Langkawi were turned back to the sea late Wednesday.
But Zafar Ahmad, president of the Myanmar Rohingyas Human Rights Organization in Malaysia, said he got it from reliable sources that two vessels were turned back by Malaysian authorities late Wednesday.
"We do know what happened to those vessels now," he told dpa by telephone.
Malaysia's Foreign Ministry was set to make a statement about the migrant arrivals after talks with "relevant countries, including Myanmar Indonesia and Thailand," according to deputy prime minister Muhyiddin Yassin.
"This is a matter that is related to the UNHCR (United Nations High Commissioner for Refugees) and comes under the responsibility of the Myanmar government," the state-run Bernama news agency quoted him as saying.
(Reporting by John Grafilo)