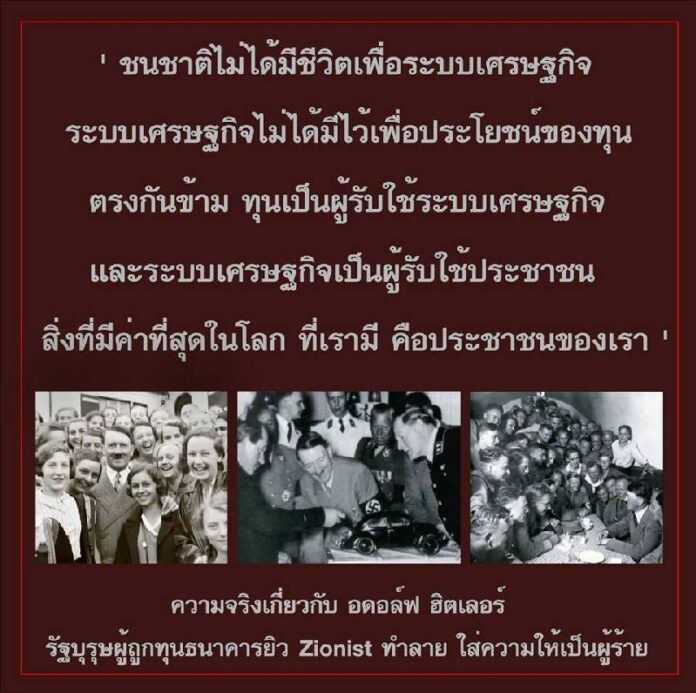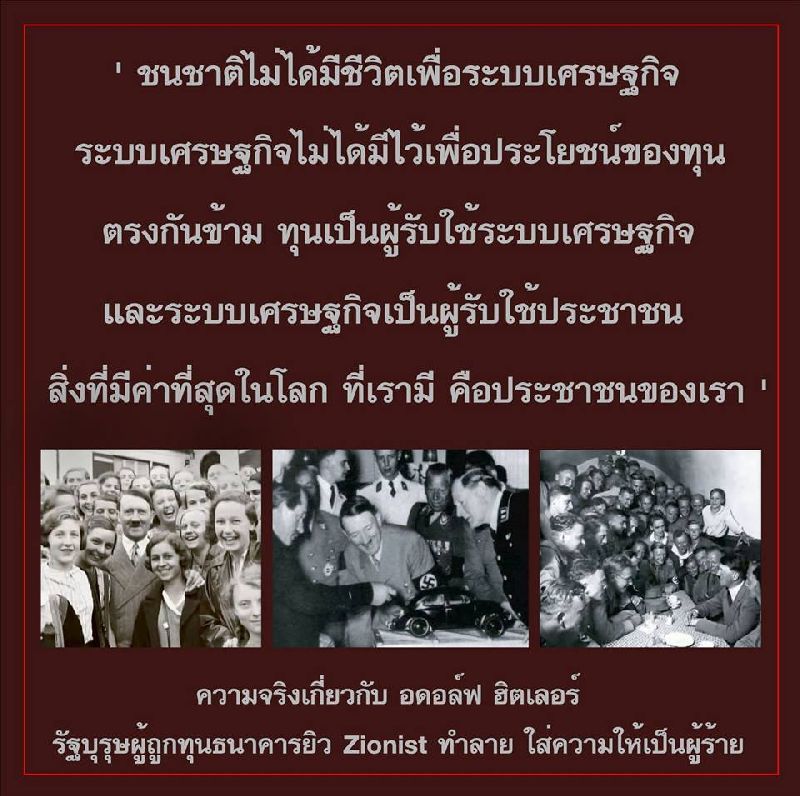 BANGKOK — The Israeli ambassador in Thailand has criticized a Facebook post written by a member of the Thai royal bloodline that praised Adolf Hitler as an exemplary statesman and described the Holocaust as "propaganda."
Mom Luang Rungkhun Kittiyakara, 46, published a lengthy post on 20 April 2015 – the 126th anniversary of Hitler's birthday – alleging that the German dictator and his Nazi Party were falsely cast as evil for their attempt to "rescue" Germany's economy from the financial grip of "Zionist capitalists."
"Hitler led his folk and nation back to glory, and reclaimed sovereignty, freedom, and liberation from being indebted to and slaves of an evil capitalist regime," Rungkhun wrote. "And what led to destruction of everything he built? The fact that he managed to find a way to rescue his nation from slavery? Because he showed the world that he could build a better future without the Zionist capitalist regime? Those are the truths. He was the hero of his people. He is the father of Germany. His people loved him, and he loved his people."
He ended the post with "Heil Hitler."
In a long postscript, Rungkhun went on to accuse Western governments and "Zionists" of fabricating the Holocaust, an extensively documented state-sponsored effort to exterminate Jewish people and other marginalized groups.
"The Holocaust, or the genocide, is a lie that never took place," Rungkhun wrote. "The story about the Holocaust is nothing more than deceptive propaganda."
The post has been widely shared on social media, with many users expressing agreement.
Rungkhun is a distant member of the Thai Royal Family. He has the same surname as the Queen's maiden family name, and he holds the royal title of mom luang.
A self-described "patriot," Rungkhun is a prominent member of Thailand's elite social circles. He came into the public eye in 2014 when he led a campaign urging the military government to nationalize the energy industry and bar foreign petroleum companies from operating in Thailand.
In an email statement to Khaosod English today, Israeli ambassador Simon Roded said it was a "pity" that "a well-educated person with better opportunity than others to obtain reliable information lacks common sense to differentiate facts from propaganda. It is always regrettable when that person needs only to do a simple research on historic events of which have been prominently proven in writing, material evidence as well as living witnesses, but fails to do so."
Roded continued, "And it would be most unfortunate if the motive behind this revolting post came from the need of a person who wants only to draw attention to himself, by expressing distorting facts on such a well-known and well documented atrocities. This post indeed shows the anti-Semitic sentiments and ignorance of the writer. It is very shameful and the writer is a disgrace to his country."
The Thai version of the statement was also posted on a Facebook page run by the Israeli Embassy in Bangkok.
The Israeli Embassy in Thailand has previously condemned public praise of Hitler and the Nazi Party in Thailand, where symbols related to the Third Reich are often used as fashionable decoration.
In July 2013, a group of students at the prestigious Chulalongkorn University painted Hitler in a mural for new graduates to take pictures with on graduation day.
Last year, the Israeli ambassador condemned a scene in a state-produced film that showed school children applauding a painting of Hitler.