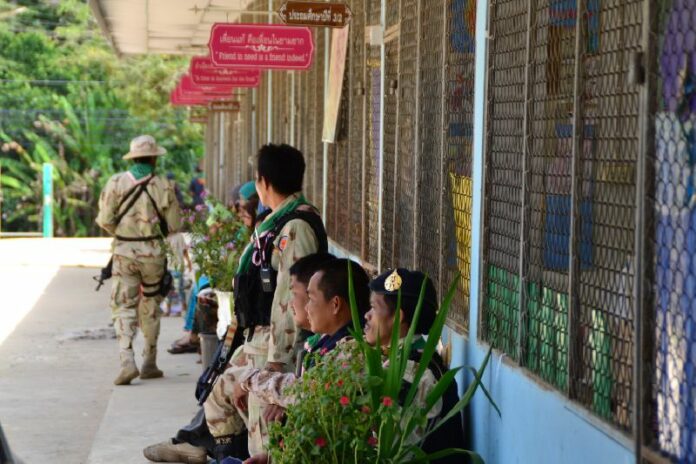 YALA — More than a dozen bombs exploded in southern province of Yala on Thursday night, injuring at least 12 people.
The explosives were planted near several banks, a college campus, a train station, and other sites in the provincial capital's commercial district. There were reportedly 17 blasts in total, not including the handful of unexploded devices that were found and dismantled by authorities.
The injured are being treated at a hospital, and no fatalities have been reported so far. An 11-year-old boy was among the injured, but his injuries are minor, a nurse told the AP.
Lt.Gen. Prakarn Chollayuth, the commander of the Fourth Region army, said the bombs were an attempt to "harass" the public.
"The perpetrators intended to encourage and boost eachother's morale," he said. "I would like the media to emphasize that these attacks affect Muslim people [too]. Some of the bombs whent off in histortic Muslim quarters."
Although the explosions themselves were relatively small, the incident was one of the most coordinated attacks to strike the Muslim-majority region in recent months.
Yala is one of three southern provinces near Malaysia that has been plagued by a bloody Islamic insurgency for the past decade. Daily violence is common in the region, known as the Deep South, though normally in the form of shootings and roadside bombs targeting military vehicles and Buddhist civilians.
Experts say the insurgency, which aims to create an independent Muslim state, is mostly fueled by ethnic and religious differences. While the vast majority of Thailand is Buddhist, the Deep South is mostly populated by Malay Muslims who speak a distinct dialect and trace their ancestry back to the sultanate of Patani, which was annexed by Thailand in early 20th century.
Although most of the estimated 6,200 casualties have died in attacks staged by insurgent groups, Thai authorities have also been criticized for using excessive violence and violating human rights in their effort to combat the secessionist campaign.
Police said a 28-year-old militant behind several major attacks in the region was killed in a shootout with authorities in Pattani this week. Two other suspected militants were arrested at the scene, police said.