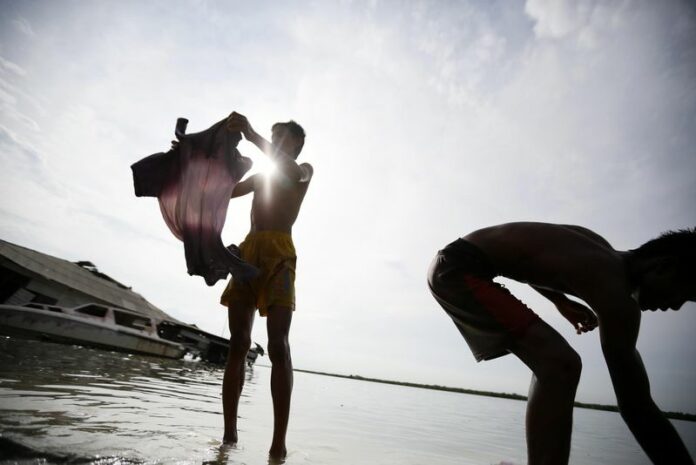 BANGKOK (DPA) — Malaysia, and Indonesia have been widely criticized for not doing more to help the thousands of migrants drifting off their shores, and for sparking a humanitarian crisis.
The international response does not always take into account local sentiment, which is often reflected in the government response.

A Police officer stands guard in front of migrants at a temporary shelter in Kuala Langsa, Aceh, Indonesia, 17 May 2015. EPA/HOTLI SIMANJUNTAK
In Thailand, the line from Bangkok that there must be a regional solution to the problem has been readily accepted by the public.
While media narratives have focused on the humanitarian toll of the crisis, Thais are more worried about foreigners' perceptions of their own country.
"The Rohingya problem must be met with a regional solution," wrote Suriyasai Katasila, a prominent political activist and secretary of the defunct New Politics Party, on his public Facebook page.
"If we can set up temporary camps to help these people, then we can surely be upgraded from a Tier 3 country," referring to the US ranking of Thailand as a human trafficking county.
Attempts made by US Secretary of State John Kerry to persuade the Thai government to do more to help the migrants have sparked a pushback on Thai social media.
On Twitter, the hash tag #USAMustHelpRohingya has gone viral, drawing tens of thousands of mostly negative comments on US meddling.
"Just let them stay in ur country, always nosey with other countries," one post read.
Others were less confrontational and appealed to reason. "Religion or nationality is not the important point. The main point is we do not have [enough resources]."
In Muslim-majority Malaysia, one of the migrants' destinations of choice, reactions have been more mixed to the arrival of the Rohingya, an ethnic minority from Myanmar.
"Rohingyas are fellow Muslims so we should not run away form our responsibility in helping our brothers and sisters," said Ustadz Husam Amin, 60, an Islamic teacher and scholar in Kuala Lumpur.
Yet even Amin agrees that "we cannot accommodate them all in Malaysia."
His views are echoed by the people on Langkawi Island where the migrants have been landing.
"[We] cannot take a heavy influx of thousands of migrants," said D Akerusamy, a lawyer from Langkawi. "We cannot be sure if these migrants can blend well with the local people."
Indonesia, the largest majority-Muslim country in the world and another destination for the Rohingya, has also had to balance pragmatism with the call of Islamic solidarity.
"We have to help them in every way we can," Muslim activist Tengku Muslem said in Aceh. "Not only because they are our fellow Muslims, but also as they are victims of persecution," he said.
The suggestion to return the Rohingyas to Myanmar "would amount to killing them," he said.
Public pleas from people like Tengku Muslem have prompted many locals to offer their assistance where possible.
Aceh fishermen have rescued hundreds of migrants and have housed them in temporary shelters.
"They are our Muslim brothers," Aceh's deputy governor Muzakir Manaf said. "Their suffering is ours too."
But while the local population are sympathetic to Rohingyas that get through, the government has adopted a more pragmatic approach out at sea.
Armed forces chief General Moeldoko, who like many Indonesians goes by one name, said on Metro TV on Saturday that the military would try to bloc migrant boats.
"We will try prevent them from entering our territory, because once they do, social problems will emerge," he said.