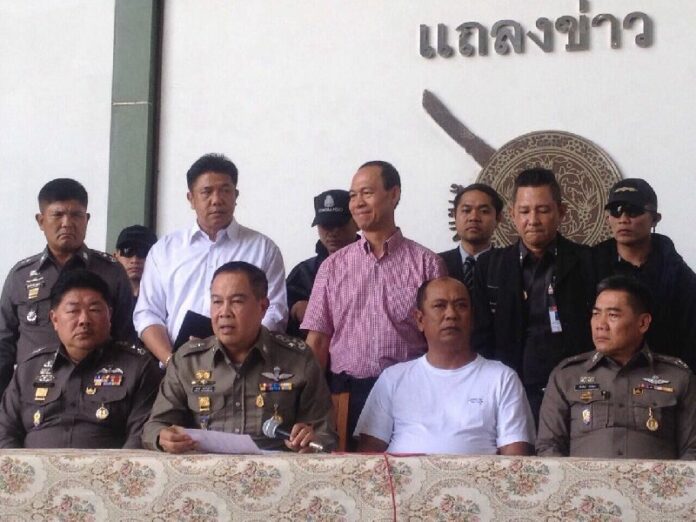 BANGKOK — The alleged ringleader of a human trafficking operation in southern Thailand surrendered to police in Bangkok today after a week on the run.
Police say Patchuban Angchotipan, aka Ko Tong, is the kingpin of a crime syndicate that ran jungle camps near the Thai-Malaysian border where traffickers held and abused migrants until their relatives paid hefty ransom fees.
Patchabun, who is a former local administrative official and owns resorts in Satun province, was charged with human trafficking and illegal detention on 11 May.
He surrendered to police in Bangkok today, dispelling rumors that he had fled to Malaysia. He reportedly denied all charges and said he would only testify in court.
Since the beginning of the month, Thai police have issued 65 arrest warrants in connection with human trafficking operations in the south. Thirty people, including Patchuban, have been arrested so far.
The police crackdown was launched after security officers discovered an abandoned detention camp on a mountain in Songkhla province on 1 May. Four other similar camps were uncovered in the following days.
Police have also encountered 313 migrants from Myanmar and Bangladesh who were abandoned by their smugglers in the jungle after the crackdown began.
According to the Pol.Maj.Gen. Phuttichart Ekachan, deputy commander of Ninth Region Police, 64 migrants have been determined to be victims of human trafficking, while the rest allegedly paid smugglers to help enter Thailand and are being prosecuted for illegal immigration.
"They are currently being prosecuted for illegal entry to the Kingdom," Pol.Maj.Gen. Phuttichart said. "Of these number, 48 have already been sentenced by the court, and they will be transferred to the Immigration Department for deportation to their country."
He estimated that the deportation process will take "3-4 months," adding that he believes security forces will not find any more migrants because officers are tightening border areas.
The crackdown in Thailand has disrupted traditional smuggling routes in the region and unintentionally contributed to a humanitarian crisis at sea, where thousands of migrants are now stranded. Over the past week, Thailand, Indonesia, and Malaysia have towed overcrowded boats of migrants back and forth across their waters in an effort to avoid taking responsibility for the asylum-seekers from Myanmar and economic migrants from Bangladesh.
Human rights groups have condemned the "push-backs" and called for an immediate search-and-rescue operation.
Read more:
Locals Speak Out Over Rohingya Influx, Amid International Criticism
Thai Junta Leader Asks Media to Let Navy Handle Migrant Crisis