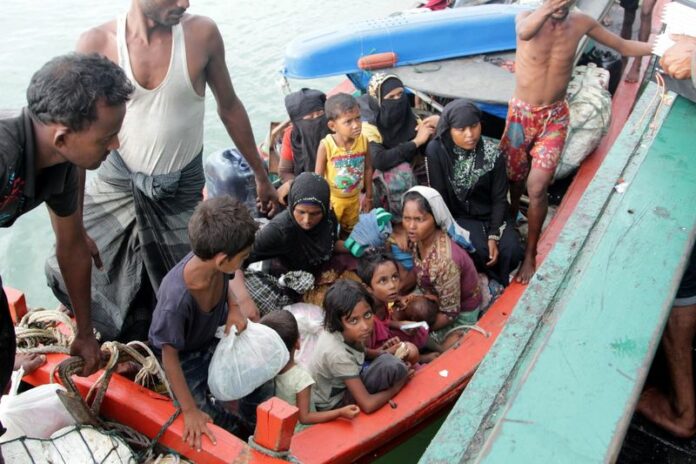 BANGKOK — Thailand has stopped short of promising refuge to migrants stranded in its waters, unlike Malaysia and Indonesia who agreed today to provide temporary shelter to the boat people after days of pushing them back to sea.
Thailand's Foreign Minister was conspicuously absent from a press conference that followed a tri-lateral meeting between the three countries in Putrajaya this morning, during which ministers from Malaysia and Indonesia said their countries would provide temporary shelter to the migrants if the international community could facilitate resettlement within a year.
Thailand's Minister of Foreign Affairs, General Tanasak Patimapragorn, reportedly said he needed to consult domestic laws before Thailand could commit to the initiative.
Hours later, Thailand's Ministry of Foreign affairs released astatement about the meeting that did not mention any plans to house the migrants, or explain Gen. Tanasak's absence from the press conference.
The statement's only concrete promise was that Thailand will "will not push back migrants stranded in the Thai territorial water."
Commenting on Twitter, Human Rights Watch's Phil Robertson called Thailand's lack of action an "appalling" and "shameful" abdication of leadership.
Gen. Tanasak's absence from the press conference also perplexed many veteran journalists in the region.
"I can never remember seeing something like this in 20 years of reporting ASEAN," BBC's Jonathan Head wrote of a photo showing Gen. Tanasak's empty podium on Twitter. "Appearance usually matters so much."
The boat people are primarily Bangladeshis fleeing poverty, and Rohingya Muslims escaping ethno-religious persecution in Myanmar. Most are seeking to settle in Muslim-majority Malaysia or Indonesia, though Thailand has traditionally been used as a key transit country for human smugglers and traffickers.
The surge of stranded migrants off shore – estimated to be as many as 8,000 – was triggered in part by Thailand's clampdown on smuggling operations in the south earlier this month. After sweeping the region, Thai police have found several mass graves and jungle camps used by traffickers to detain and abuse migrants until their relatives send hefty ransom sums.
Although the UN and other agencies have called on governments in the region to mount a full scale search-and-rescue mission, Malaysia's foreign minister said today that Indonesia and Malaysia would not actively search for migrants in the sea, but only provide assistance to those who land on shore.
For the past week, Thailand, Malaysia, and Indonesia have taken turns towing the overcrowded boats of hungry and dehydrated migrants out of their territorial waters.
Thai authorities have said the migrants are welcome to land on its shores, but will be prosecuted for illegal entry into the Kingdom.
However, a 23-year-old Rohingya who survived a perilous sea voyage and landed in Indonesia this morning told AP the Thai navy threatened to "shoot" his ship if the boat tried to return.