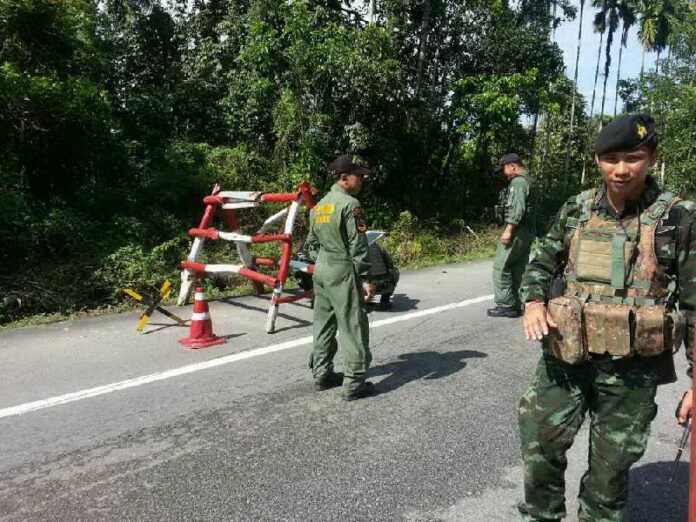 NARATHIWAT — A group of gunmen attacked a military checkpoint in the southern border-province of Narathiwat last night, Thai police say.
According to police, the militants began shooting at soldiers who were manning the checkpoint during a heavy rainstorm in Sugai Kolok district at around 10 pm.

Security officers collect evidence from the checkpoint where soldiers and suspected insurgents exchanged gunfire on 24 May 2015.
The soldiers reportedly shot back at the suspected insurgents, who eventually retreated. No injuries have been reported.
The militants also left behind one homemade explosive, which soldiers disposed of this morning, said Pol.Col. Kong-at Suwannakham, superintendent of Sugai Kolok Police Station.
Police suspect the gunmen were members of an Islamic separatist movement that has claimed more than 6,000 lives in the southern provinces of Narathiwat, Yala, and Pattani – a region known as the Deep South. The insurgents are believced to be seeking to revive the Islamic state of Patani, which was annexed by Thailand in the early 20th century.
More than 60,000 security officers are stationed in the region to combat the secessionist violence, which broke out in January 2004.
Experts say the insurgency is mostly fueled by ethnic and religious differences. While the vast majority of Thailand is Buddhist, the southern provinces of Yala, Narathiwat, and Pattani are mostly populated by Muslims who speak a Malay dialect.
Yesterday, representatives of the Organization of Islamic Cooperation (OIC) visited a Muslim community in Pattani's Thung Yang Daeng district and gave a lecture on morality, peace, and religious teachings. The group was given a welcome ceremony by Lt.Gen. Prakarn Chollayuth, commander of the Fourth Region Army, which oversees security operation in the Deep South.