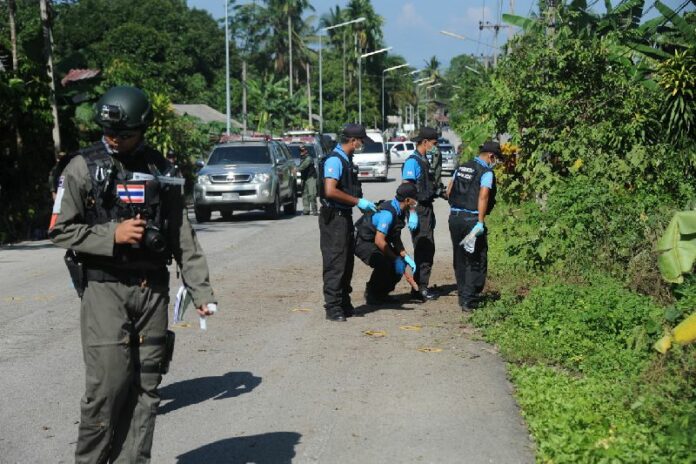 NARATHIWAT — A roadside bomb wounded four security officers and two students in the southern border province of Narathiwat this morning, forcing a nearby school to close down for the day.
Pol.Lt. Chayut Kaewnui, an officer at Ra-Ngae Police Station, told reporters the explosion took place on a road near Baan Bogo village in Ra-Ngae district at around 7:40 am.
According to Pol.Lt. Chayut, a group of paramilitary rangers and soldiers were patrolling the road when the bomb exploded, wounding four officers.
The blast also injured two Muslim sisters, aged 8 and 9, who were walking to school just behind the rangers, the officer said.
All of the injured are in stable conditions and receiving medical care at a local hospital.
Pol.Lt. Chayut said the improvised explosive device (IED) was remotely detonated by a cellphone signal. He believes local Islamic separatists were responsible for the attack.
Bogo school, which is located close to the blast site, also decided to close down for a day because the road leading to school was blocked by security officers looking for evidence, the school administrator said.
Since 2004, a shadowy network of militants has staged near daily bombing and shooting attacks in Thailand's southern border provinces in a bid to create a breakaway Islamic state. At least 6,200 people have been killed in the region, which known as the Deep South.
Schools and public teachers are regularly targeted by insurgents, presumably because they are viewed as instruments of Thailand's Buddhist state. Nearly 200 school teachers have been killed since 2004, and many now travel with a large convoy of bodyguards and soldiers.
Last October, six public schools in Pattani province were set on fire in a coordinated arson attack at night. The buildings were severely damaged, though no one was killed or injured.
Experts say the insurgency is mostly fueled by ethnic and religious differences. While the vast majority of Thailand is Buddhist, the southern provinces of Yala, Narathiwat, and Pattani are mostly populated by Muslims who speak a Malay dialect.
At least 60,000 security officers are posted in the Deep South, and have often struggled to secure the trust of local residents because of the impunity granted to officers accused of excessive brutality and foul play.
During a raid in Pattani province last month, security officers shot and killed four men who an investigative panel later determined were innocent and had no links to the insurgency. The military initially identified the victims as members of a militant group that regularly stages attacks in the region.

Deep South students visit the Thai Marine corps' headquarters in Chonburi province as part of state public relations program, 29 May 2015.
Today, 60 Buddhist and Muslim students from the Deep South visited the Thai Marine corps' headquarters in Chonburi province as part of state public relations program.
Rear Admiral Nopporn Wutthiranarit, deputy commander of the Marine Corps, said the program is seeking to "improve the attitude" of students towards military officers stationed in the southern provinces of Yala, Narathiwat, and Pattani.
"This is to create a positive attitude among the young people and residents in the area, so that they will have a correct understanding and willingness to cooperate with authorities in solving problems about the unrest," RADM Nopporn told reporters.