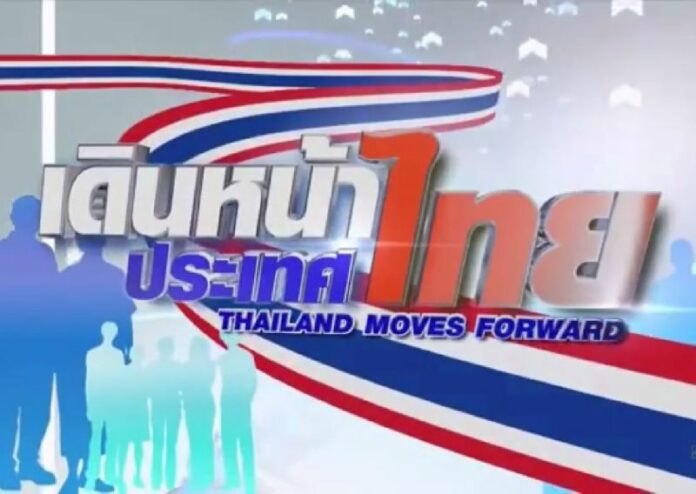 BANGKOK — Thailand's military government will increase the air time of its daily television show from 15 to 30 minutes, said a spokesperson, citing the need for more time to explain the post-coup government's works in detail.
The show, called 'Thailand Moves Forward,' is produced by the military government and aired daily on all state-owned television channels at 6 pm, except on Fridays.
The 15-minute segment features different officials talking about reforms that have been spearheaded by the junta's government since the May 2014 coup.
Maj.Gen. Sansern Kaewkamnerd, a government spokesperson, said that junta chairman and Prime Minister Gen. Prayuth Chan-ocha stressed the need to "create understanding" among the public about his government's accomplishemnts.
"The Prime Minister understands that people want to consume other types of information, such as entertainment shows," said Maj.Gen. Sansern. "But they have to understand that because the country is undergoing a period of reforms, we need to create understanding with society about what works the government has done."
He also acknowledged that increasing the show by an extra 15 minutes would affect other TV programs aired on the state-owned channels, but urged the companies to make sacrifices for the sake of the country.
"For the sake of the benefit of the country, increasing the time to 30 minutes is not a lot. There has to be some sacrifice," Maj.Gen. Sansern said. "If one only thinks about business benefits, it may seem as if the increase is too much, because the programs will have to be re-scheduled. But I am asking for your sympathy."
Thailand Moves Forward is separate from Gen. Prayuth's weekly television show on Fridays, called 'Returning Happiness to Thailand,' in which he delivers an approximately one-hour speech to the nation.