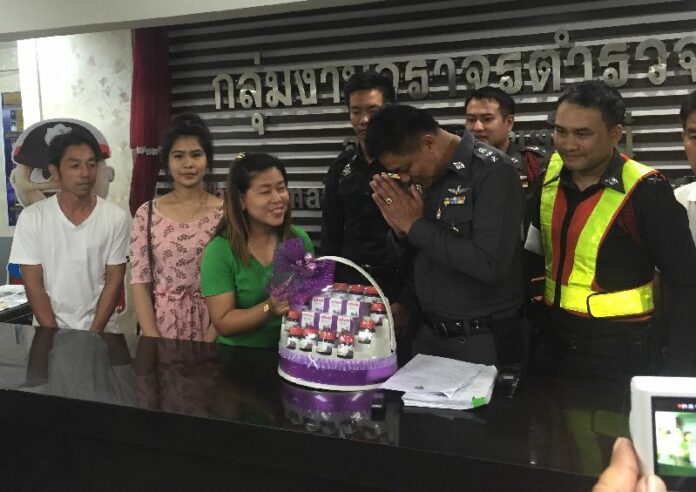 CHIANG MAI — A 37-year-old woman in Chiang Mai has apologized to police for misrepresenting a video she posted on social media showing a police officer knock down a speeding motorcyclist.
In the video, which began circulating on Facebook yesterday, an officer kicks down motorcyclist who zoomed past a check point, causing the helmet-less rider to fall to the ground.
Kanokwan Yanakho, 37, posted the video, which was filmed by her boyfriend, on Facebook with a caption that read: "Let this be exposed everywhere. Police at Nong Hoi intersection inspected and arrested people this way. They are so evil!"
The video soon went viral on social media, with numerous commentators accusing the officer of employing excessive violence to arrest the motorcycle simply because he wasn't wearing a helmet.
However, police clarified yesterday that the motorcyclist had driven through a different police checkpoint earlier and almost run over an officer.
"The officers then radioed the next checkpoint on the road to intercept the man, because we suspected that he was possessing illegal substances," said Pol.Col. Piyapan Pattarapongsinthu, commander of traffic police in Chiang Mai. "Then the motorcyclist approached the checkpoint, and the officer was forced to kick the vehicle to stop the suspect."
The motorcyclist, Narong Wannarat, 33, was in possession of crystal methamphetamine when officers arrested him, police say. He has been charged with possession of Category 1 narcotics.
Kanokwan met with police today to apologize for misinterpreting the video.
"I thought he was kicked just because he was driving without a safety helmet," Kanokwan said. "So I was angry and posted the video on my Facebook. My friends then shared the post. I didn't expect that it would have been shared so widely."
Pol.Col. Piyapan said he accepted Kanokwan's apology and would not take any legal action against her because she appeared to have genuinely misunderstood the video.
Police Senior Sergeant Major Yutthana Sutham, the officer in the video, defended his decision to kick the motorcycle down because of the driver's suspicious behavior.
"People who merely were not wearing safety helmets wouldn't run over a checkpoint like that. We were sure he must have something illegal," Yutthana said.
However, Pol.Gen. Somyot Pumpanmuang, commander of the Royal Thai Police, told reporters he reprimanded the officers involved in the video for behaving in a way that could be seen as excessive.
"Even though it was meant to intercept a suspect, the images that have been shared look violent. People didn't understand what happened," Pol.Gen. Somyot said.
He added, "I will consult with other police officers about this, so we can find appropriate methods or ways to perform our duties, and to improve our image."