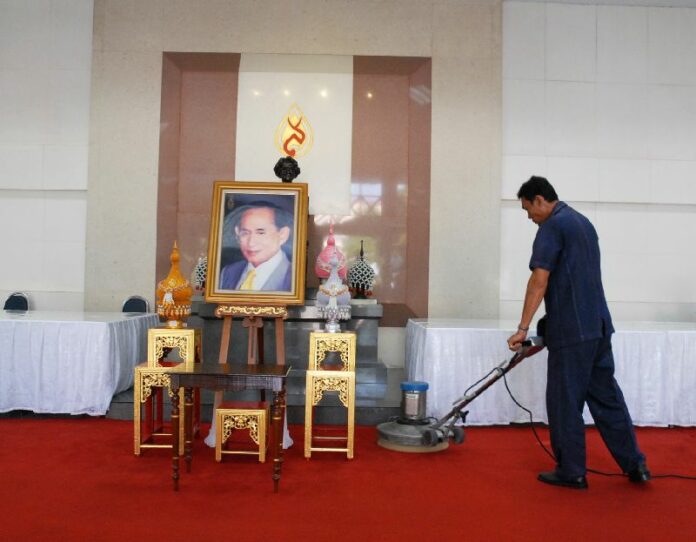 BANGKOK — In an effort to extradite lese majeste suspects living abroad, Thailand's military government will inform foreign ambassadors that insulting the monarchy is a criminal offense, not a political one.
Gen. Paiboon Khumchaya, Minister of Justice, said the Ministry of Foreign Affairs will explain to diplomats from countries where fugitives are residing that the suspects need to be brought back to Thailand for criminal prosecution.
According to the general, 31 people charged with lese majeste are currently in exile, with 14 of them living in neighboring Laos.
"They have to understand that this wrongdoing is not a political issue, but a criminal wrongdoing," Gen. Paipoon said. "I have already instructed the Ministry [of Foreign Affairs] to create understanding about each suspect's legal case before proceeding, because in some countries there is no law related to insulting the monarchy."
In Thailand, criticizing the monarchy is punishable by up to 15 years in prison under Section 112 of the Thai Criminal Codes, a law known as lese majeste.
Although discussing the monarchy has long been taboo in Thailand, the ruling military junta has enforced the country's lese majeste law with new vigor since seizing power in a coup in May 2014. The junta is led by Gen. Prayuth Chan-ocha, a former army chief and hardline royalist.
Since the coup, at least 46 people have been charged with lese majeste, and more than half of them have been denied bail while they await trial, according to iLaw, a watchdog group that tracks legal cases in Thailand.
Critics and human rights groups say Thailand's lese majeste law – the strictest of its kind in the world – is used to suppress free speech and smear political opponents.
Amnesty International, for instance, recognizes those convicted of lese majeste in Thailand as "prisoners of conscience."
"Amnesty International considers all those who have been jailed solely for peacefully expressing their opinions to be prisoners of conscience, who should be released immediately and unconditionally," Rupert Abbott, AI's Research Director for Southeast Asia and the Pacific, said in February 2015. "The lese majeste law should be amended so that it complies with Thailand's international legal obligations, including under the International Covenant on Civil and Political Rights."
King back in hospital
King Bhumibol, 87, is widely revered as a demigod in Thailand and often credited with bringing stability to the Kingdom during his 68 years on the throne.
However, his frail health is a source of anxiety for many Thais, the majority of whom have never lived under another monarch.
On 31 May, His Majesty the King returned to Siriraj Hospital in Bangkok for what the palace said was a routine medical check-up following his six-month stay at the hospital earlier this year.
He was admitted with a high fever in October 2014, and later underwent a surgery to remove his infected gallbladder, according to the palace. His Majesty returned to his summer palace in Prachuap Kiri Khan province on 10 May.