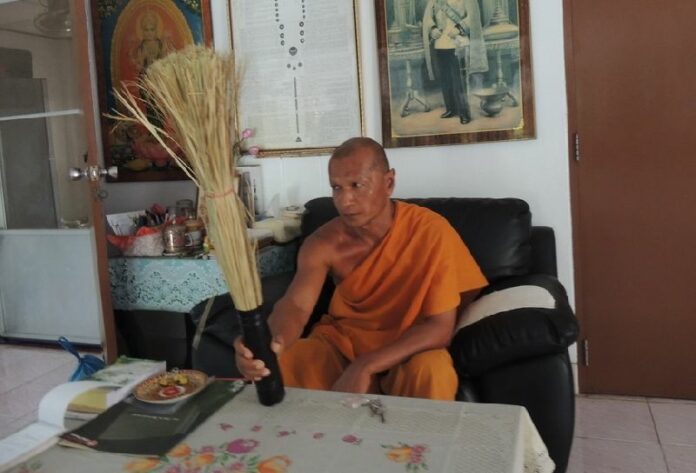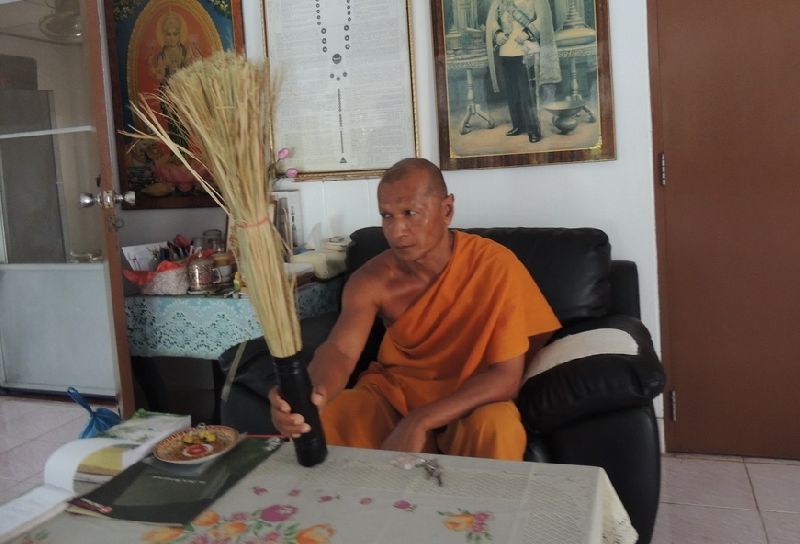 SARABURI — A monk who was seen forcefully hitting temple-goers' heads with a bundle of dried grass has defended the unorthodox practice, calling it his unique way of blessing the faithful.
Phra Jirapan Analyo, the 53-year-old abbot of Pha Sadej monastery in Saraburi, admitted that the practice may look violent in a video that went viral this week, but insisted that it does not hurt.
"The knocking of heads is a way to cure diseases and illness for the faithful," Phra Jirapan said. "And the knocking may look violent, but it didn't hurt anyone."

A video of Phra Jirapan blessing temple-goers at Wat Na Thawee, Songkhla province.
The practice drew criticism on social media after a video of Phra Jirapan forcefully hitting temple-goers was posted on Youtube on 6 June. Many commentators argued that the aggressive action contradicted the calm and stoic demeanor monks are required to possess by Buddhist doctrine.
"This monk is so sadistic, like Buddha Issara!" one user joked, referring to the ultra-conservative monk who commanded "hardcore" factions of anti-government protests in 2013 – 2014.
Phra Jirapan, who has been in the monkhood for 15 years, said the video was taken at a recent ceremony in Songkhla province's Na Thawee district. The monk said he was invited to lead a ceremony to mark the opening of a new chapel.
Preecha Sathitruesak, a resident of Na Thawee district, told Khaosod he attended the ceremony along with a group of Buddhists from neighboring Malaysia.
"The images on the social media may look violent, but in fact it's not violent at all," Preecha said.
Phra Benja Papassaro, a monk who oversees temples in Saraburi province, told reporters that he watched the video and believes "his action does not violate the holy doctrines, though it does look excessive." He said he and other senior monks are discussing the issue to find a formal conclusion on the matter.