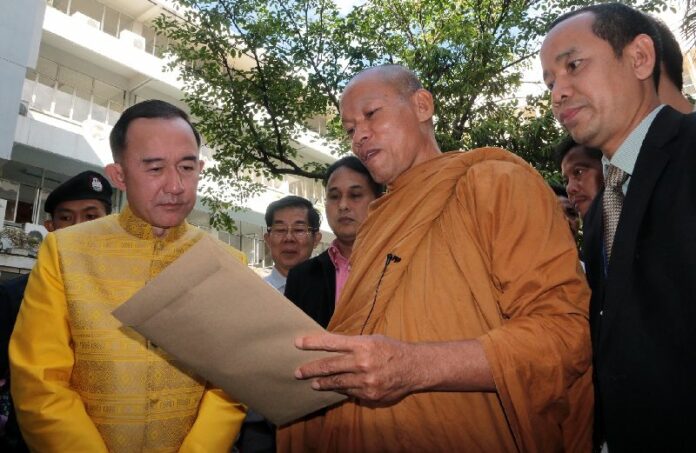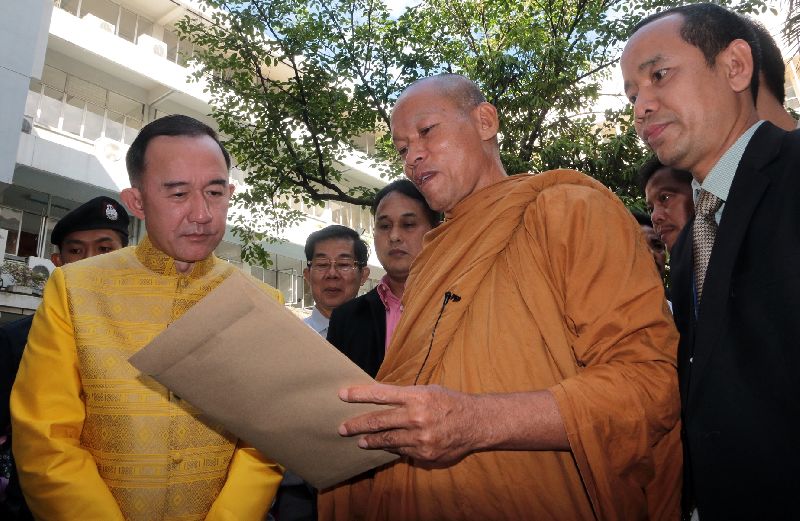 BANGKOK — The ultra-conservative monk Phra Buddha Issara has submitted 50,000 signatures he collected in support of delaying elections for two more years so that junta chairman Gen. Prayuth Chan-ocha can stay in power until his reform program is completed.
Buddha Issara, a political activist who led the street protests that culminated in the May 2014 coup d'etat, said the 50,000 petitioners would like the military government to finish its sweeping reform effort before a new election is held.
The monk also urged the junta to hold a referendum to decide the issue. Panadda Diskul, Minister of the Prime Minister's Office, accepted the petition on Gen. Prayuth's behalf.
Read more: Buddha Issara Wants Prayuth to Stay 'Until Reforms are Completed'
Under the current "road map" promised by the junta, the next election will be held in September 2016 at the earliest.
Buddha Issara's proposal is similar to a petition submitted by 26 members of the junta-appointed National Reform Council, who called for a referendum to decide whether Gen. Prayuth should delay the election and stay in power for two more years in order to complete the reforms. Buddha Issara's proposal does not mention any time frame for how long Gen. Prayuth should stay on.
"I support [the idea] of reforms before an election," Buddha Issara said when he launched the campaign to collect the 50,000 signatures on 5 June, citing a slogan of the protest movement he helped lead in 2013 – 2014, which aimed to topple the government of then-Prime Minister Yingluck Shinawatra.
Buddha Issara and other protest leaders demanded that the Yingluck administration be replaced with an unelected "People's Council" to implement unspecified national reforms before a new poll.
The street protests came to an end after six months when Gen. Prayuth intervened and seized power on 22 May 2014.
Meanwhile, Suthin Picharn, leader of the New Democratic Party – a former coalition party with the Yingluck government – submitted his own counter-proposal to the Constitution Drafting Committee today, urging Gen. Prayuth to uphold the current "road map" and organize a national election in September 2016 as he has promised.
"Right now, everyone is waiting for an election," Suthin said.
He also called on the military junta to relax its ban on political activities and allow political parties to continue their works and campaigns freely. "At this moment, political parties cannot do anything," Suthin said. A parliament official received the petition on the government's behalf.
Read more: Prayuth Will Stay in Power if 'Everyone Wants Me to'
For comments, or corrections to this article please contact: [email protected]
You can also find Khaosod English on Twitter and Facebook
http://twitter.com/KhaosodEnglish
http://www.facebook.com/KhaosodEnglish