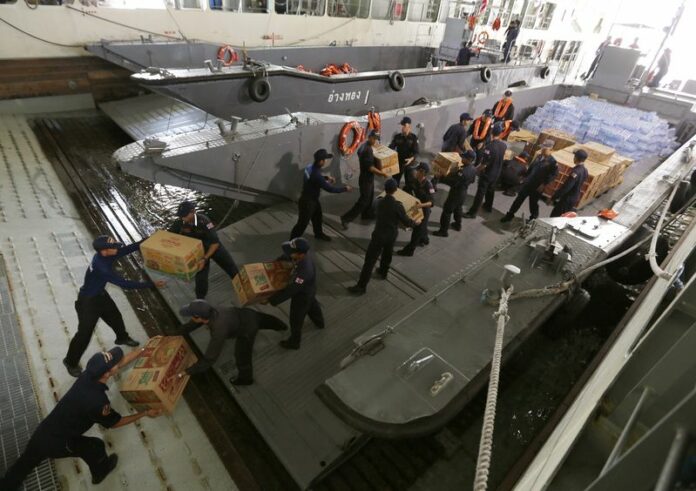 BANGKOK (DPA) — A two-week mission by the Thai navy to provide humanitarian assistance to Rohingya refugees is due to end Wednesday, officials confirmed.
The amphibious assault vessel HTMS Ang-Thong, currently serving as a command and control ship in the Andaman sea, will end her mission unless given new orders, Navy spokesman Captain Benjamaporn Wongnakornsawang said.
The Ang-Thong was deployed two weeks ago to help Rohingya refugees from Myanmar, who were trying to make their way by boat to Indonesia and Malaysia, often with Thailand as a transit point.
The plight of Rohingya migrants had been the focus of international attention at the time, with several thousand adrift at sea in crammed boats with limited supplies.
Over 5,600 Rohingya and Bangladeshi migrants have landed in Malaysia, Indonesia and Thailand since the crisis began over a month ago, according to Chris Lewa of the Arakan project, which campaigns on behalf of the Rohingya.
Malaysia and Indonesia agreed last month to give the refugees temporary asylum.
The Rohingya say they suffer discrimination in predominantly Buddhist Myanmar. Tens of thousands have fled since an outbreak of ethnic violence 2012.