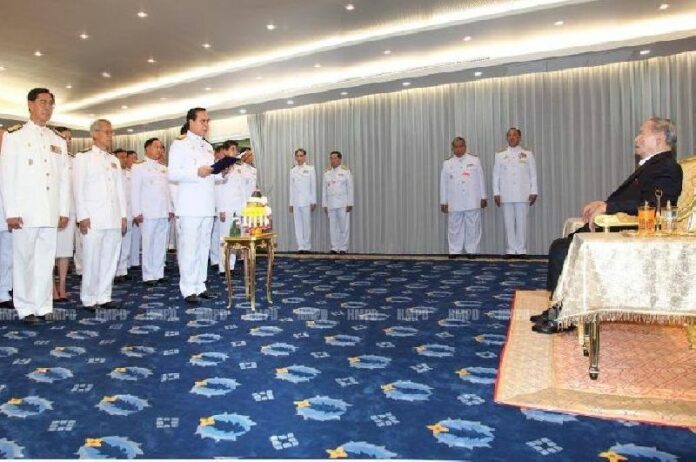 BANGKOK — Thailand's military government has approved an amendment to the interim charter that would no longer require newly-appointed Cabinet ministers to take an oath before the Thai king.
The proposed amendment would allow officials to swear the oath in front of the Heir Apparent or other representatives appointed by King Bhumibol.
The 87-year-old king's son, Crown Prince Vajiralongkorn, 62, is the current designated heir to Thailand's throne.
Per tradition, Cabinet ministers and other high-ranking officials, such as judges, are required to take the following oath of allegiance shortly after assuming office:
"I, (name of the declarer), do solemnly declare that I shall be loyal to the King and shall faithfully perform my duties in the interests of the country and of the people. I shall also uphold and observe the Constitution of the Kingdom of Thailand in every respect."
The Cabinet also approved another amendment that would give the Election Commission up to 45 days to organize a referendum on the junta's new constitution after it is approved by the National Reform Council.
"I expect that the referendum will take place around late January or early February [2016]," said Visanu Kruengam, deputy Prime Minister.
The Deputy Prime Minister added that other questions may be included in the referendum, such as whether junta chairman and Prime Minister Prayuth Chan-ocha should stay in power for two more years. If approved, the measure would further delay elections – tentatively slated for September 2016 – for two more years.
"There may be a question of whether the government should stay on for two years, but it has to be approved by the [interim] parliament first, and it also has to be approved by the Cabinet," Visanu said.
The amendments passed by the Cabinet yesterday are expected to be finalized by the junta's interim parliament by July, Visanu said. At least 111 votes in the 222-member body, formally known as the National Legislative Assembly, are required to approve the amendments.