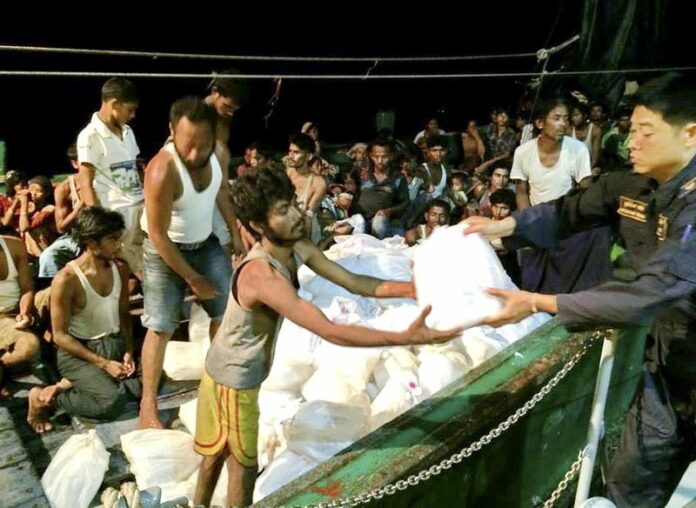 BANGKOK (DPA) — The numbers of migrants from Myanmar and Bangladesh trying to reach other South-East Asian countries by boat has reduced significantly since the beginning of a regional crisis last month, a monitoring group said Wednesday.
Some 5,600 migrants have either landed in the destination countries of Indonesia and Malaysia or returned to Myanmar, according to Chris Lewa of the Arakan Project, which campaigns on behalf of the Rohingya ethnic group in Myanmar.
Most of the boat migrants are ethnic Rohingya, who say they suffer persecution in Myanmar, or Bangladeshis who are often considered to be economic migrants.
"It is difficult to estimate how many migrants are still at sea," she said, "but the numbers are not large."
"There's been no new departures in the last several weeks since the crisis started," Lewa added.
The International Organization for Migration (IOM), which was the first major body to put a figure on the number of migrants at sea last month, saying it was more than 8,000, refused to speculate on how many people might still be on boats.
The numbers are "difficult" to gauge, spokesman Joe Lowry said.
A recent mission by the United States to search for remaining boats has not found any refugees.
Official numbers from Malaysia and Indonesia indicate that less than 3,000 have landed since early May, with the majority – 1,700 people – having arrived in the Indonesian province of Aceh.
Since May 20, when the governments of both countries agreed to let some 7,000 people come ashore, no new boats have been spotted, officials said.
The Myanmar navy brought over 700 boat migrants back to shore a week ago, but did not specify whether these were Bangladdeshis or Rohingya.
Meanwhile the Thai navy clarified earlier statements that its humanitarian mission in the Andaman sea was due to end later Wednesday.
The amphibious assault vessel HTMS Ang-Thong, currently serving as a command and control ship in the Andaman sea, would continue its mission to provide humanitarian assistance to any refugees it finds until ordered otherwise.
Navy spokesman Captain Benjamaporn Wongnakornsawang said that a decision on continuing the mission would be made in the coming days by relevant government officials.
"Until then we will continue serving the mission," he said.
(Reporting by Cod Satrusayang)