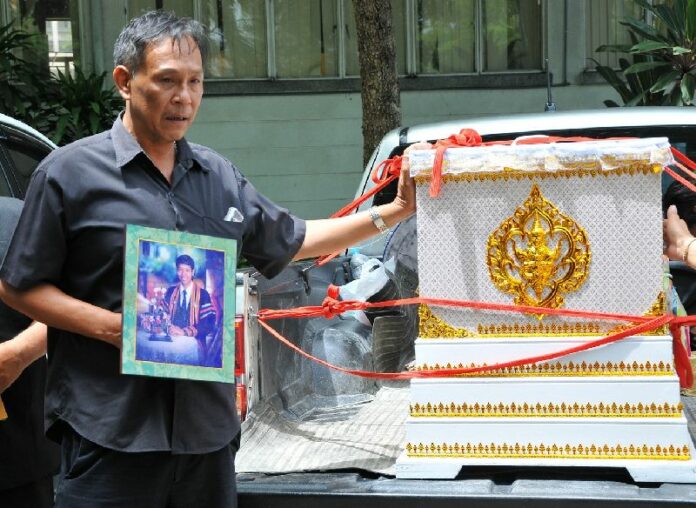 PATHUM THANI — The family of the 30-year-old man shot dead by a police officer in Pathum Thani province has disputed police's account of the incident, pointing to CCTV footage that they say does not back police's version of events.
According to police, Assaneechaiyapol Charoenwinit was shot in his right rib cage by Police Lance Corporal Paisit Onsongchan after he rushed into Pratunam Chulalongkorn Police Station with a knife at around 4:30am on Sunday.
Police said Pol.Lc. Paisit, who was reportedly interrogating six Burmese drug suspects at the time, fired two warning shots, but Assaneechaiyapol lunged at him, forcing the officer to shoot.
Police are still investigating Pol.Lc. Paisit, who has been charged with manslaughter and extrajudicial killing.

CCTV footage of the shooting released by police at a press conference on 9 June 2015.
Complying with demands from Assaneechaiyapol's family, police released CCTV footage of the incident in a press conference yesterday.
However, relatives of Assaneechaiyapol said they remain unconvinced by the footage, which does not clearly show Assaneechaiyapol holding a knife. The video shows Assaneechaiyapol, wearing white, arrive on a motorcycle, wander around the parking lot, and then later run towards the door, where he falls to the ground after being shot.
"We also think police acted excessively," said an uncle of Assaneechaiyapol, who requested not to be named, during Assaneechaiyapol's funeral at Ayyikararam Temple today. "Why did they shoot my nephew like that? The police officer should have used a better way to defend himself."
He added that his family will hold the funeral for five days, but they will not cremate Assaneechaiyapol's body until the police investigation into the incident is resolved.
On Monday, Assaneechaiyapol's relatives brought his coffin to a government complaint center in Bangkok, where they filed a formal complaint urging the military government to investigate the incident.
Speaking at the press conference that unveiled the video footage yesterday, commander of the Bangkok Metropolitan Police Pol.Lt.Gen. Amnuay Ninmano asked Assaneechaiyapol's parents to "please stop giving false news to the media."
"Why are you saying that police deliberately shot your son?" he said. "If your son was really a good man, why did he ask for trouble from other people and from the police? Yet you claim police acted excessively. I do not agree with your words."