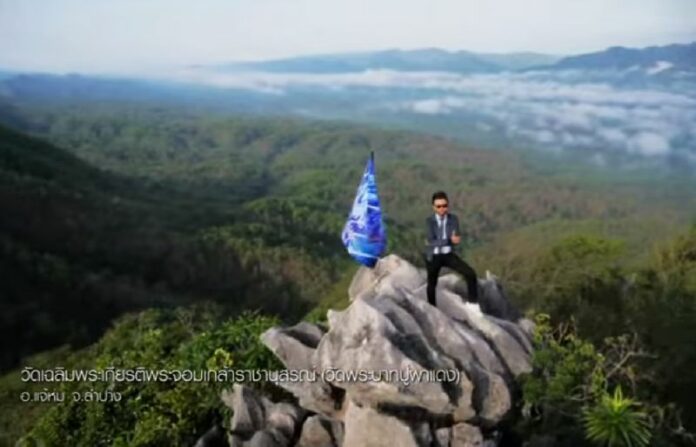 LAMPANG – The producers of a reality television series in Thailand have formally apologized for filming a scene on top of a mountain in Lampang province where Lord Buddha is said to have left a footprint thousands of years ago.
The controversy erupted when Thailand's Got Talent, an entertainment show based on its British franchise, aired the first episode of the show's fifth season on 7 June. In the opening segment, the show's host – famous Thai comedian Kathsepsawad Palkawong na Ayutthaya – is seen standing and planting a flag on top of the mountain near Wat Chalerm Phrakiat Phrachomklao temple in the northern province of Lampang.
Many viewers were offended to see Kathsepsawad standing on a sacred site where some Thai Buddhists believe Buddha left a massive footprint during a visit to Lampang. Although historians say it's extremely unlikely that Buddha, who is said to have lived between 480 – 400 BCE, ever left the Indian subcontinent while he was alive, Thai Buddhists believe he visited Thailand numerous times and left footprints around the country.

The controversial opening to the first episdoe of Thailand's Got Talent's fifth season.
In response to the controversy, Kathsepsawad and the producers of Thailand's Got Talent climbed back to the spot in Lampang today and held a ceremony to apologize to Buddha's spirit.
"If the show crew has violated this holy site in any way, I and my crew hereby seek your forgiveness," they said together in a prayer. "We implore the divine entities that are enshrined upon this place to have mercy and forgive us."
Speaking to reporters afterwards, Kathsepsawad, who is better known by his stage name Na Nek, said he and the film crew did not notice the sign marking the site of Buddha's footprint while they were filming the show.
"Once we learned that we made a mistake, we traveled here to apologize," Kathsepsawad said. "This will be a lesson for us when we film in other locations. We will be more cautious in the future."
Thailand's Got Talent has been subject of several controversies in the past. The show producers were fined 200,000 baht by the National Broadcasting and Telecommunication Commission (NBTC), in June 2012 for airing an episode in which a woman used her naked chest to paint a picture, which the NBTC ruled as obscene.
The NBTC again fined Thailand's Got Talent for 500,000 baht in 2013 after it broadcast an episode that featured the show's judges mocking a mentally-disabled contestant. The NBTC said the encounter damaged the "good morality of the people."