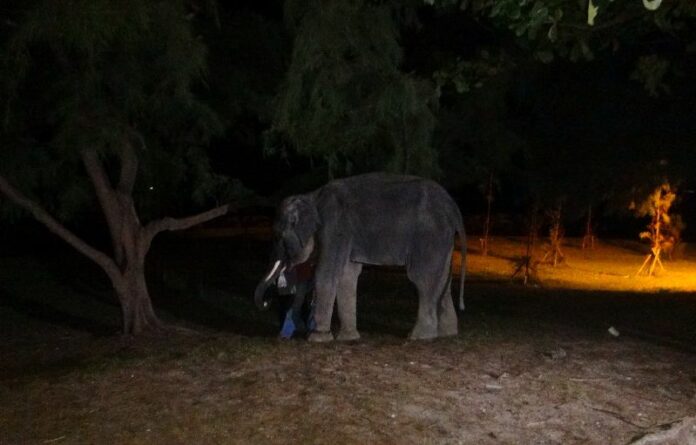 RAYONG — A 28-year-old man has died in the hospital after being pierced by an elephant's tusks on a beach in eastern Thailand this week.
Weeranat Yoodee passed away on the night of 16 June, twenty-four hours after he and 30-year-old Thongpoon Boonraksatrakul, who remains in the hospital, were attacked by the male elephant in Rayong province's Noen Phra district.
According to witnesses, an elephant handler, known as mahout, was asking the group of friends to buy sugar cane for the animal when the 5-year-old elephant suddenly struck Weeranat with its tusk and kicked Thongpoon.
"I and other tourists in the area ran for our lives," said Kusuma Laopan, 32, who was with the pair at the time. "Luckily, the mahout stepped in and stopped the elephant, so it stopped harming other people. The mahout then led the elephants away to the other side of the road."
Witthawat Uanduangdee, the 21-year-old mahout, told reporters that he brought two elephants to Rayong from Buriram province last week, and was shocked by the incident.
"I think [the elephant] might have been startled by car headlights and engine sounds," he said.
Police say Witthawat has been charged with violating Thailand's animal welfare law and negligence leading to death.
Elephants are routinely brought to beg for money in urban areas and tourist attractions around Thailand. Animal rights activists have long-criticized the practice, which was recently outlawed by new animal welfare legislation.
Under Thailand's Animal Cruelty Prevention Act, which was passed by the interim parliament in late 2014, those caught "causing unnecessary cruelty" to animals face a 40,000 baht fine and two years in prison. Thai authorities have said the law applies to people who bring elephants to beg in cities.