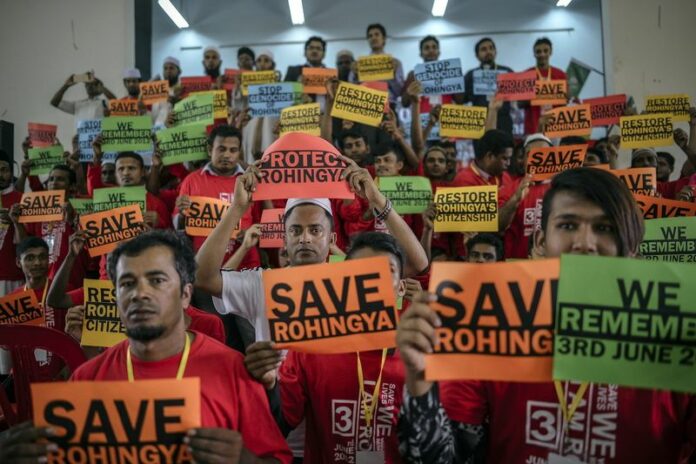 BANGKOK (DPA) — When Myanmar began a gradual reintegration into the international community in 2011, after decades of isolation under a military regime, some saw it as a reward for the patience of the regional grouping called ASEAN.
The Association of South-East Asian Nations has a long-established, unspoken agreement not to interfere in members' internal affairs, which observers said allowed it to keep Myanmar on board through years of criticism and pressure from other parts of the world.
The military regime was isolated by Western sanctions, "but as an ASEAN member, it was part of the economic cooperation process," said South-East Asia diplomatic expert Chayut Setboonsarng.
"This regional environment of non-interference and acceptance created an atmosphere of comfort" that encouraged Myanmar to move forward with its reforms, said Chayut, a consultant at government affairs advisory firm APCO Worldwide.
The bloc did take some measures, including barring Myanmar from the rotating chairmanship, but stopped short of threatening expulsion, or commenting openly on its internal politics.
Myanmar's leaders were therefore able to "make credible commitments about their intentions in relation to liberalization and democratization," Catherine Renshaw wrote in the Journal of Southeast Asian Affairs.
Four years on, as ASEAN contemplates ever-closer integration, that non-interference principle has been put to the test by a crisis which many see as having originated in Myanmar itself.
Thousands of Rohingya migrants from Myanmar made global headlines in June, stranded on fishing boats operated by human smugglers, trying to migrate to Malaysia and Indonesia through Thailand, and sometimes abandoned at sea.
Human rights groups say the Rohingya face "desperate" conditions in Myanmar, which does not recognize them as one of its ethnicities and considers them Bengali immigrants opening them up to institutional discrimination.
Indonesia and Malaysia agreed at a conference near Kuala Lumpur last month to temporarily shelter the migrants, but observers said that any durable solution requires the problem to be addressed at its Myanmar source.
Attempts to solve it "without seriously pressing Myanmar to deal with the Rohingya" would be "useless," a member of the Thai delegation to a subsequent regional conference in Bangkok said, on condition of anonymity.
Perhaps unsurprisingly, the first voices to speak out on the record have been from outside ASEAN, in particular Western NGOs and the United Nations, with the bloc's members themselves carefully avoiding the term "Rohingya" during their meeting.
"Citizenship must be the ultimate goal" for the Rohingya, said Volker Turk, assistant high commissioner of the UN refugee agency, adding that Myanmar must accept "full responsibility."
Richard Bennett, Amnesty International's Asia Pacific Director, slammed Myanmar for its "denial that the Rohingya even exist. This cannot be the basis on which to proceed."
Former ASEAN secretary-general Surin Pitsuwan said after the conference that there had to be some change in the status quo.
"The idea of non-interference should have its limitations, or the Rohingya problem will turn out worse for all of us," Surin said.
The problems of the Muslim Rohingya in Buddhist-majority Myanmar are "probably internal, but no country in this world has the right to treat people like Myanmar does," said Surin, a Muslim himself.
"ASEAN leaders need to recognize that it's time for the regional grouping to evolve by doing away with its archaic non-interference rules that are not compatible with today's challenges," said Phil Robertson, Human Rights Watch's Asia deputy director.
"Myanmar's systematic rights abuses against the Rohingya and their absurd denial of those abuses are the rock that ASEAN's so-called 'non-interference' principle may ultimately break on."
Within ASEAN, some have started calling for some revision of the principle.
Former Malaysian Prime Minister Mahathir Mohamad went as far as calling for the expulsion of Myanmar from ASEAN.
"Countries like these only give [ASEAN] a bad name," he said.
"If you want to commit genocide, leave ASEAN," he said at an international conference in Oslo in May.
"The fate of the people there needs to be defended from the outside."
(Reporting by Cod Satrusayang)