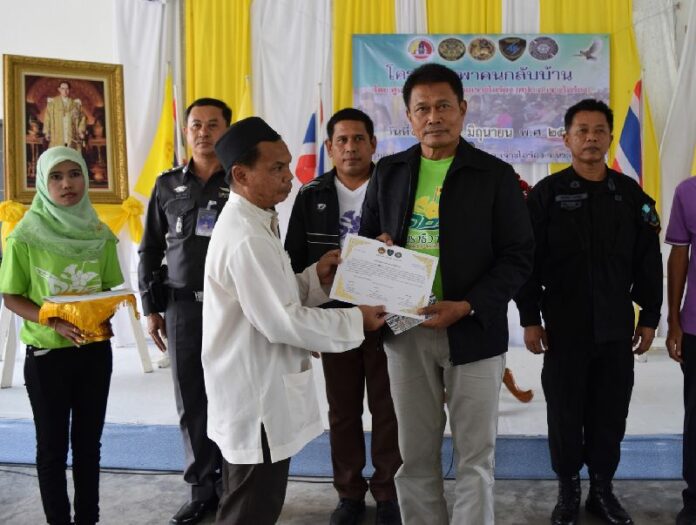 NARATHIWAT — Thai officials say they have repealed the arrest warrants of 22 former suspected members of the separatist movement in southern Thailand in an effort to promote reconciliation during the Islamic holy month of Ramadan.
Chamnan Muendam, the deputy governor of Narathiwat, said the 22 men were wanted by authorities for their suspected connections to local insurgent groups that have been waging a violent campaign to secede the provinces of Narathiwat, Yala, and Pattani and form a breakaway Islamic state.
The former fugitives surrendered to authorities and have abandoned their armed struggle in favor of a peaceful solution to the conflict, he said.
"[We] are proceeding with the government's policy of opening opportunities for those who think differently from the state or those who took up violent methods, and allowing them to return and solve the problems with peaceful methods," Chamnan said.
Yesterday Thai army officials explained that suspected insurgents charged with crimes under the Emergency Decree, which has been in place in the region for a decade and grants security officers sweeping powers to detain and arrest suspects, will have their warrants revoked if they can prove their innocence.
Speaking today, Chamnan explained that members of the insurgent movement may also be granted legal amnesty if they prove their "innocent intention" by disavowing the violent campaign.
Thai authorities say the program is an effort to promote reconciliation during Ramadan, a holy month for Muslims that began today.
The deputy governor also handed over certificates to the 22 former suspects, confirming that their previous arrest warrants issued under the Emergency Decree have been formally revoked, and they are now free to return to their normal lives.
The secessionist campaign in Narathiwat, Yala, and Pattani – a region known as the Deep South – has claimed the lives of more than 6,200 people since the most recent waves of violence broke out in January 2004, according to data compiled by rights groups.
Thai authorities have responded to the insurgency by deploying at least 60,000 security officers in the Deep South, and maintaining martial law and the Emergency Decree for more than nine years.