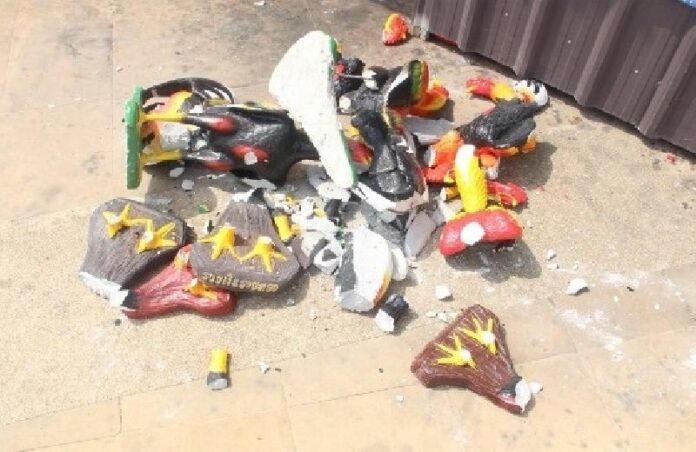 LAMPANG — Police have arrested a 19-year-old man who allegedly smashed more than 50 figurines at a local shrine dedicated to an ancient Thai king in Lampang province while he was intoxicated.
According to police, Thanapong Buapeng entered a shrine dedicated to a King Naresuan, who lived 400 years ago, shortly after midnight on 17 June and proceeded to destroy dozens of small figurines of roosters placed by local residents as offerings. Thanapong fled the scene, but was arrested at his home yesterday, police say.
King Naresuan (1555 – 1605) is frequently celebrated by Thai authorities for securing the independence of Ayutthaya Kingdom, a predecessor to present-day Thailand, by defeating the Burmese army in 1593.
Although historical records of King Naresuan's life remain obscure, according to lore he beat the son of a Burmese general in a cockfight while the young king-to-be was held as a hostage in the Burmese city of Pegu. The cockfight is often interpreted by Thais as a prophecy of his future victory against the Burmese.
According to police, Thanapong said he was drinking with friends on 16 June and decided to destroy the figurines out of recklessness. Police charged him with damaging public property, and took him to the shrine today to apologize to the ancient king's spirit.
Thanapong was previously arrested and jailed for three months for destroying public lights in Chiang Mai province, police said.
In October 2014, a group of hardline royalists accused a Thai historian of insulting the monarchy by questioning the historical accuracy of a legendary elephant battle between King Naresuan and the leader of the Burmese army in 1593. A military officer filed a charge of lese majeste (defaming the monarchy) against the 82-year-old historian, Sulak Sivaraksa, though he was never indicted. The charge carries a maximum penalty of 15 years in prison.