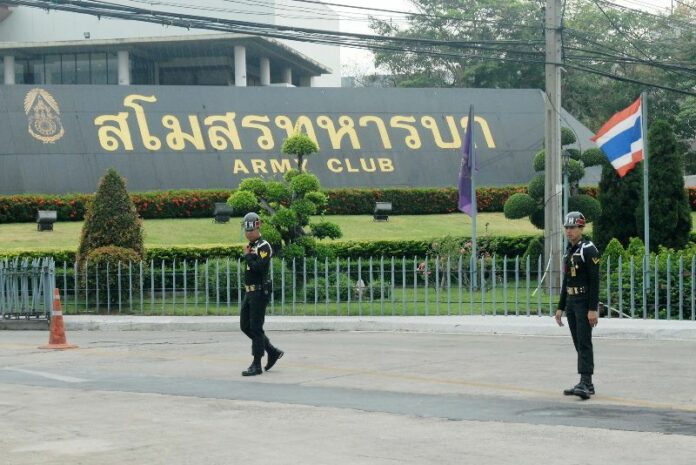 BANGKOK — Politicians from Thailand's two rival political camps have been asked by the military junta to attend a forum on its national reform efforts this Friday.
Officials say the politicians were invited by the junta's reform-promoting agency, the Center for Reconciliation and Reform (CRR), which has organized several forums in the past for prominent political leaders, academics, and activists.
Independently organized forums on politics remain banned by the junta, which seized power in May 2014.
According to officials, the upcoming forum will be held on 19 June at the Army Club in Bangkok. Among those invited are top leaders from the Redshirt movement – which supported the government toppled by the junta – and their rivals, the Yellowshirts, who campaigned against the former government for six months prior to the coup.
The Redshirt-affiliated invitees include former Pheu Thai Party politician Chaturon Chaisaeng; Pheu Thai spokesperson Anusorn Iamsa-ard; Pheu Thai economic adviser Pichai Naripatapan; chairman of the United Front of Democracy Against Dictatorship (UDD) Jatuporn Prompan; and deputy UDD chairman Nattawut Saikua.
The allies to the conservative Yellowshirt movement named in the invitation are former leader of the People's Committee for Absolute Democracy With the King As Head of State (PCAD) Thaworn Senniam; and deputy chairman of the Democrat Party Nipit Intarasombat.
Officials did not say which topics will be discussed at the forum on 19 June.
"I am not sure what kind of topic they invited us to speak about," former PCAD leader Thaworn told Khaosod today, though he said he is looking forward to sharing his suggestions about reforming Thailand's bureaucracy, police force, and political institutions.
Nipit, the deputy chairman of the Democrat Party, said he received the invitation over the phone earlier today, and will share his opinions about the draft of the junta's new charter and the proposal by coup supporters for junta chairman Prayuth Chan-ocha to stay in power for two more years.
Pheu Thai economic adviser Pichai, who has been criticizing the military government's economic policies on his Facebook account, also confirmed that he would attend the forum. Other politicians invited by the junta could not be reached for comment at the time of writing.
After toppling an elected government last May, the junta appointed several councils to write a new constitution and propose a wide range of national reforms in the name of reconciling Thailand's bitterly divided political factions. The military government has also severely restricted freedom of expression by banning all political activities and censoring the media in an effort to silence critics.