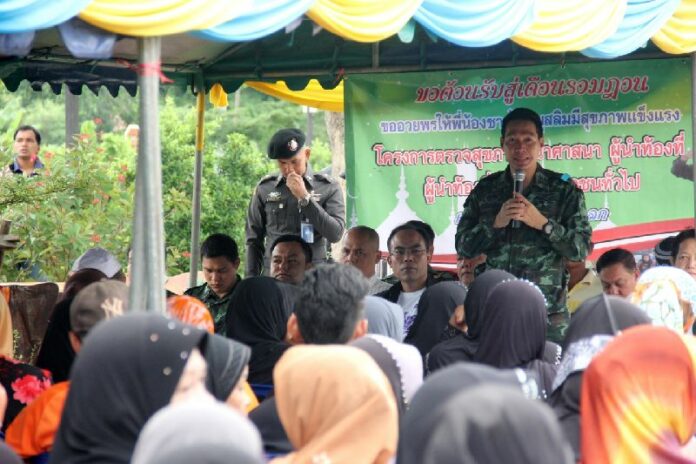 NARATHIWAT — Thai officials are urging exiled members of the southern separatist movement to visit their families and surrender to authorities during the Islamic holy month of Ramadan.
Speaking at a gathering of around 600 local Muslims and clerics in Narathiwat province today, local official Worachate Prom-opas encouraged fugitive insurgents to return to Thailand for a fresh start.
"As for the people who were misguided and have traveled to live in neighboring countries and other areas, I'd like people to invite them to travel back and join the fasting with their family members, and urge them to start new lives," Worachate said. State officials commonly use the term "misguided" to refer to members of the separatist movement, which is seeking to form an independent Islamic state.
"It's not too late," Worachate said. "Authorities will give them fairness and assistance for the criminal cases in the best way we can."
Ramadan is expected to begin on 18-19 June, depending on the sighting of the new moon by Islamic religious authorities.
Worachate added, "This is the policy of the commander of the Fourth Region Army, who wants those who were once misguided to repent and join in the development of our country and build peace together."
Col. Pongpat Hongsinlak, a commander of an army unit in Narathiwat, told the crowd that suspected insurgents who have been charged with offenses under Thailand's Criminal Code will be treated with "protection and fairness" from authorities if they return.
Those who have been charged with crimes under the Emergency Decree, which grants security officers sweeping powers to arrest and detain suspects, will have their warrants revoked if they can prove their innocence, he said.
"Fugitives who have been charged with Emergency Decree and Criminal Code warrants can go home and display their innocence," Col. Pongpat said. "They can contact their families. Officials will give them fairness, especially during the month of Ramadan. The Fourth Region Army would like to insist on its policy of bringing them home."
Since January 2004, Islamic separatists have been battling Thai security forces in the southern border provinces of Pattani, Yala, and Narathiwat – a region known as the Deep South – in an effort to revive the independent state of Patani. The sultanate was annexed by Thailand at the beginning of the 20th century.
Some top members of the separatist network are believed to be assisting the shadowy movement from exile, mostly from neighboring Malaysia.
The secessionist campaign has claimed the lives of more than 6,200 people since the most recent waves of violence broke out a decade ago, according to data compiled by rights groups.
Thai authorities have responded to the insurgency by deploying at least 60,000 security officers in the region, and maintaining martial law for more than nine years.
Human rights activists have frequently accused Thai authorities of mistreating suspects in the Deep South, especially by coercing confessions through intimidation and abuse.
The National Human Rights Commission received at least 393 complaints of beating or torture under custody from southern border provinces between 2007 – 2013, according to Prachatai news.