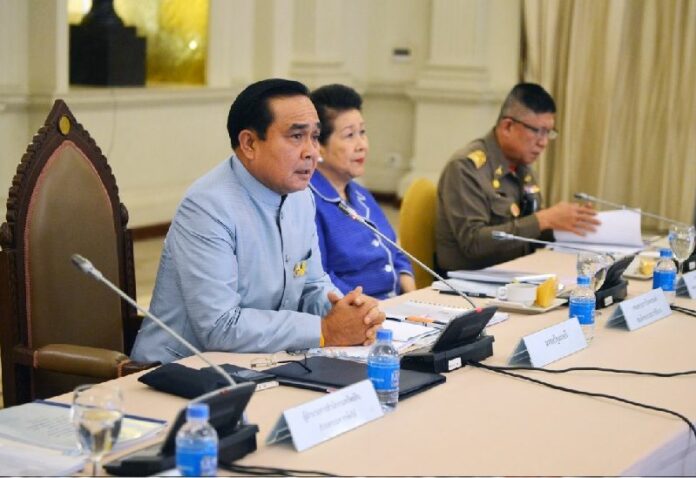 PHRAE — A group of ultra-royalists in northern Thailand have formally thanked junta chairman Prayuth Chan-ocha for "defending" the monarchy with his strict enforcement of the country's lese majeste law.
Kanathip Moodcharoen, the chairman of a local association called People Who Love the King, submitted the group's thank-you letter through Phrae province's governor this morning.
Kanathip told reporters he and his fellow activists are impressed by Gen. Prayuth's "dedication" to enforcing Section 112 of the Thai Criminal Codes, a law known as lese majeste that criminalizes insulting the king, queen, heir-apparent, and regent with up to 15 years in prison.
The law, which is the harshest of its kind in the world, is frequently used to block any discussion of the monarchy, drawing condemnation from human rights organizations who say it used to stifle free speech.
This week, the military junta ordered the Foreign Correspondents' Club of Thailand to cancel a panel discussion on the role of the lese majeste law in Thai society, reportedly citing a concern that the event would "sow disunity in Thai society, and encourage people to break the law and stir up unrest."
Although insulting the monarchy has been a crime in Thailand for over a hundred years, the law has been enforced more frequently over the past decade, and with a notable rise in severity since Gen. Prayuth seized power from an elected government in May 2014.
"In the past, officials responsible for law enforcement have neglected their duties, and there were many serious insults and accusations against the monarchy, both in open and secretive ways," Kanathip said. "The reason was because there was no fear of committing the crime, which greatly disturbs loyal subjects of His Majesty the King. But in the present time, [Prayuth's] government has enforced the laws strictly and continuously, and those who wish to overthrow the monarchy can no longer dare display their illegal actions openly. Some even had to flee the country."
Since the May 2014 coup, nearly 50 people have been charged with lese majeste, and more than half of them have been denied bail while they await trial, according to iLaw, a watchdog group that tracks legal cases in Thailand. Several months ago, a 58-year-old man was sentenced to 25 years in prison for allegedly insulting the monarchy on Facebook.
Gen. Prayuth, a hardline royalist, has declared "defending His Majesty's authority" as a top priority of his government.
"We will use legal measures, social-psychological measures, and telecommunications and information technology to deal with those who are not mindful of their words, are arrogant at heart, or harbor ill intentions to undermine the important Institution of the nation," Gen. Prayuth said in September 2014.
King Bhumibol, 87, is widely revered as a demi-god in Thailand, where he has sat on the throne for more than half a century. He is currently being hospitalized for poor health, a cause of anxiety for many Thais who have never lived under another monarch.