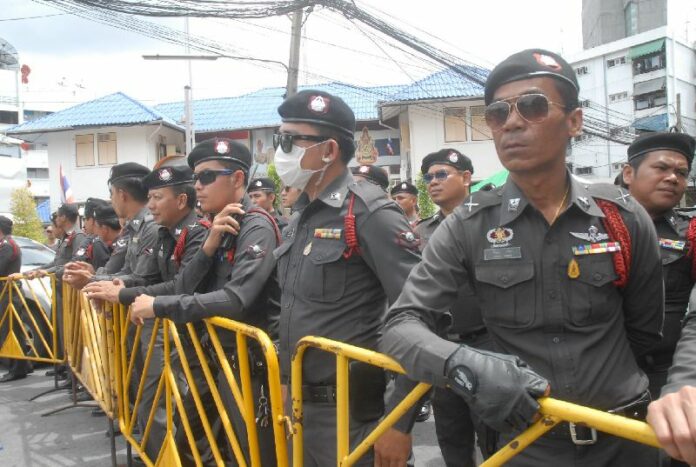 BANGKOK — Nearly one hundred police officers barricaded a police station today to prevent pro-democracy activists from filing a legal complaint against officers who they say abused them during a crackdown on their rally last month.
The seven activists had been ordered to surrender at Pathumwan Police Station for violating the junta's ban on protests by leading the anti-coup rally in Bangkok on 22 May – the first anniversary of the 2014 coup d'etat. Police forcefully broke up the peaceful demonstration and arrested more than 30 people that night.
Last night, the activists announced that they would visit Pathumwan Police Station at 1 pm today, not to surrender, but to file charges against two army officers and one police officer who reportedly used excessive violence when they broke up the rally.
Police responded to the announcement by blocking the roads to the station with nearly 100 officers, preventing the seven activists and their supporters from reaching the station and filing the charges. A standoff between police and dozens of anti-coup protesters ensued for at least several hours, with the activists taking turns giving speeches through a loudspeaker.

Students from Khon Kaen University joined the rally outside of Pathumwan Police Station, 24 June 2015.
The group was joined by pro-democracy activists from Khon Kaen province who have also refused to surrender to authorities after being charged with violating the junta's protest ban. The Khon Kaen activists, who are leading members of a social justice group called Dao Din, said they arrived in the capital city today to show their moral support.
At the time of writing, police have not arrested any of the activists gathered oustide the station.
Of the nine activists charged in connection with the 22 May rally in Bangkok, one person voluntarily reported to police earlier this week, and another was arrested from a hospital where she was staying this morning.
The 21-year-old activist who was arrested today, Nachacha Kongudom, was taken to martial court where prosecutors formally charged her and requested that she be jailed at Bangkok Remand Prison while the trial proceeds.
Officials said Nachacha, who is a transgender woman, would have been remanded at a special section in the all-male prison if she was not released on bail.
However, Nachacha's lawyer successfully asked the court to grant her release, on the condition that she does not engage in any political activities. She was scheduled to be released at around 8 pm tonight.
Earlier today, three other student activists were briefly detained for laying flowers at Bangkok's Democracy Monument in commemoration of the 83rd anniversary of the revolution that established parliamentary democracy in Thailand.
Speaking at a press conference today, Deputy Prime Minister Wisanu Krue-ngam acknowledged that the revolution failed to to turn Thailand into a full-fledged democratic country.
"In the past 83 years, we have seen a lot of political changes," he said. "There have been 60 governments, 22 [successful and attempted] coups, 29 Prime Ministers, and 19 Constitutions. … Even though a lot of time has passed, right now we have not seen a full-scale democracy."
Asked to comment on what full-scale democracy entails, Wisanu explained, "A full-scale democracy doesn't mean a democracy with international standards, but it means a system in which people are conscious about their rights, duties, responsibilities, and political culture. These are important matters. Let me give you an example: a tree imported from Japan cannot grow beautifully in Thailand because the climate and soil are different. It convinces me that a political system, no matter what system, will not produce same result everywhere."
He concluded, "We have to look at Japan, why they have democracy. The answer is that they have discipline and [good] political culture. So don't only talk about parliament or elections."
For comments, or corrections to this article please contact: [email protected]