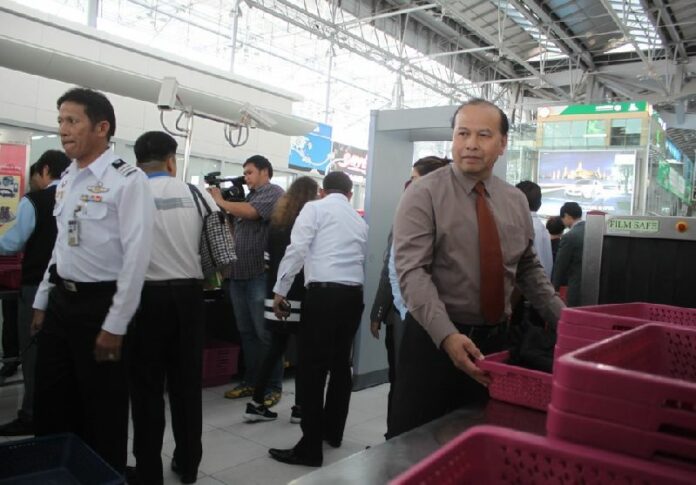 BANGKOK — The director of Bangkok's Suvarnabhumi Airport said his staff did not detect a firearm when they inspected the luggage of a former Bangkok police chief who was arrested in Japan with a loaded gun this week.
Pol.Lt.Gen. Kamronwit Thoopkrachang, 60, who served as commander of Bangkok Metropolitan Police from 2012 to 2014, is being held in Japanese custody after security officers in Tokyo's Narita Airport reportedly discovered a loaded revolver in his suitcase on 22 June. The penalty for carrying a loaded firearm without permission in Japan is 3-10 years imprisonment.
Kamronwit's arrest raised concerns among Thai officials that Suvarnabhumi Airport staff may have failed to spot the firearm in Kamronwit's belongings, or provided him with VIP treatment.
Sirote Duangrat, the airport's director, dismissed the speculation in a press conference today.
Sirote said Kamronwit went through an x-ray scan and body search at the airport before he left Thailand on the Thai Airways flight TG640. His checked luggage was also inspected, Sirote said.
"We did not discover any item that is dangerous to the aircraft," Sirote said.
He also told reporters that the body scanner devices used at Suvarnabhumi Airport meet international standards, and are the same as the machines used in Japan's Narita airport.
"Officials who man the devices went through at least six months of training, and we shift the personnel all the time to prevent exhaustion," he said. "Each personnel is an expert in this profession. However, from now on we will increase frequency and intensity of our inspections."

A still provided by airport officials showing staff search Pol.Lt.Gen. Kamronwit Thoopkrachang at Suvarnabhumi on 18 June 2015.
Sirote added that licensed gun owners can file for a special permission to carry firearms in checked luggage, which Kamronwit did not do.
Japanese officials told AFP that Kamronwit said "the gun was his own and was a gift from a friend, and that he had forgotten he had put it inside the suitcase." It is unclear whether he said he recieved the alleged gift in Japan or Thailand.
A spokesperson for the Thai police force, Pol.Lt.Gen. Prawuth Thawornsiri, told reporters that Japanese public prosecutors have not yet formally brought charges against Kamronwit.
"They still need time to deliberate on the case files," Pol.Lt.Gen. Prawuth said, adding that under Japanese laws suspects can be detained for up to 20 days while prosecutors deliberate on their case.
Thailand's Minister of Tranport, Air Chief Marshal Prajin Janthong, said authorities will still investigate whether Suvarnabhumi airport's equipment failed to spot the firearm, and whether staff employed sufficient caution when they searched Kamronwit's belongings.
Kamronwit is considered a close ally to former Prime Minister Thaksin Shinawatra, who was deposed in a military coup in 2006 but still retains considerable influence over a powerful political dynasty in Thailand. Kamronwit retired from the Royal Thai Police in October 2014, five months after the military staged a coup d'etat against a government led by Thaksin's sister.