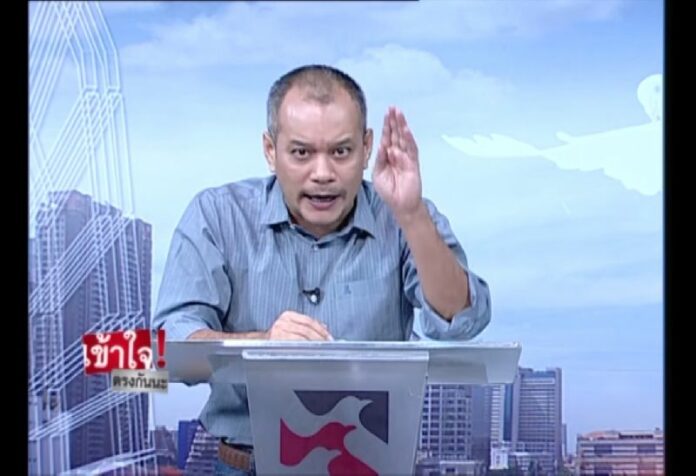 BANGKOK — A satellite television station operated by the Redshirt movement is suing Thailand's state media regulator for 15 million baht in damages for "illegally" shutting down its channel two months ago.
Thanadet Puangpoon, a lawyer who represents Peace TV, filed the lawsuit at the Administrative Court today on behalf of the five Redshirt leaders who operate the station.
The Redshirt leaders are challenging the National Broadcasting and Telecommunication Commission's (NBTC) decision to revoke Peace TV's license in April for allegedly violating junta orders that forbid the media from inciting unrest or causing "divisions in the Kingdom."
Speaking to reporters today, the station's lawyer said the ruling was unlawful, and cited the backing of Thailand's National Human Rights Commission (NHRC), which has called the shutdown an excessive punishment and intrusion on free speech.
In May, the director of Thailand's rights commission said he did not find any content on the channel that incited unrest or division, and urged the station to file a lawsuit.
"In this lawsuit, we would like the NBTC to compensate us for 15 million baht, because throughout the two months we were shut down, the company has accumulated 7.5 million baht in damages per month for not airing the programs," Thanadet said.
He also told reporters he has asked the court to issue an injunction that would allow Peace TV to operate normally until a verdict is reached.
Although the station was formally shut down on 30 April, Peace TV has continued to news shows and programs on the station's official YouTube channel.
Both of Thailand's Redshirt and Yellowshirt movements operate their own TV and radio channels featuring news programs and live broadcasts of their political rallies. The partisan channels were initially shut down by the military in the wake of the coup, but later allowed resume operations as long as they agreed not to instigate violence, divisions, or "confusion."
Critics say the junta is particularly bent on curbing the influence of the largely anti-coup Redshirt movement, which supported the government toppled in the coup and has determined the winner of every national election for the past decade.