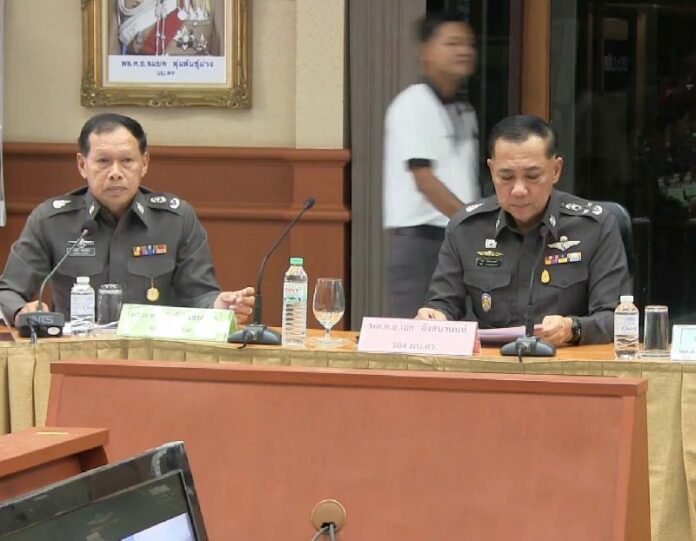 SONGKHLA — A top police commander said it will take at least five years for the court to examine the testimony of more than 200 witnesses in a massive legal case against alleged human traffickers in southern Thailand.
Pol.Gen. Aek Angsananont, deputy chief of Royal Thai Police, said yesterday that Na Thawee Provincial Court has only completed one witness examination since police started arresting suspects belonging to the human trafficking network in early May.
"The court is open for this special case on every Saturday and Sunday to make the witnesses examination process faster," Pol.Gen. Aek said. "Because there are more than 200 witnesses in this case. It will take at least 5 years to complete the witness examinations. As for the case files, they are still being deliberated on by the Office of Attorney-General, and we expect that they will formally bring the case to the Na Thawee Provincial Court within the next week."
Police have issued a total of 119 arrest warrants in connection to the trafficking ring since 1 May. Nine more suspects were arrested today, bringing the number of suspects in custody to 65. The suspects include local officials, politicians, police officers, and one senior army officer.
"[Police] are urgently working to track down and arrest every suspect for prosecution, and we have assigned protection officers for every witness until the case is over," Pol.Gen. Aek said.
Thai police launched the unprecedented crackdown on a long-running smuggling operation in southern Thailand after discovering abandoned jungle prisons used to detain migrants and demand ransoms from their relatives. Most of the migrants were Rohingya Muslims from Myanmar and Bangladeshis seeking to settle in Muslim-majority Malaysia.
Hundreds of shallow graves – presumably containing the corpses of those who did not survive the grim conditions of the camps or were unable to secure enough money – were also found near the camps along the Thai-Malaysian border.
For years, human rights groups and journalists have accused Thai authorities of turning a blind eye to the human trafficking network. Last year, Thailand was downgraded by the US for failing to meet the minimum standards to combat people smuggling.
There have been numerous reports of officials and military officers profiting from the illicit trade through bribes, and a documentary produced by the BBC this year found that "entire communities" assisted human traffickers in some parts of southern Thailand.