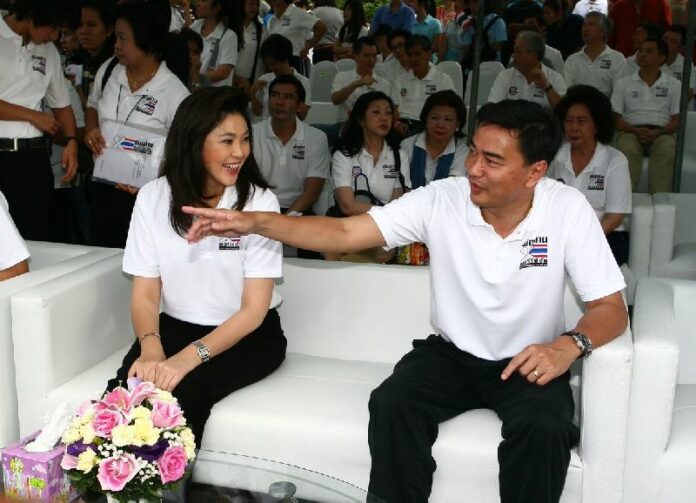 BANGKOK — Thailand's ruling military junta is planning to invite prominent politicians from the country's rival factions to discuss the government's reform plans on national television.
Gen. Udomdet Sitabutr, a junta member and army chief, said the TV show will be launched by the junta-appointed Center for Reconciliation and Reform (CRR), and allow politicians to air their views on the military government's reform efforts since the May 2014 coup.
According to Gen. Udomdet, the invitees will include former Prime Ministers Yingluck Shinawatra and Abhisit Vejjajiva, who are top leaders of Thailand's two chief political camps – known colloquially as the Redshirts and the Yellowshirts – that have been locked in a protracted power struggle for the past decade.
"This idea is meant to open a channel for people of all groups and sides to express their opinions through correct means, so that we may use their [suggestions] to improve or amend things, if it is possible," Gen. Udomdet said. "Because many people have knowledge and experience that can be applied to the present time."
The junta has maintained a ban on all political activities over the past year, but more recently sought to allow discussion through state-sanctioned forums in order to quell criticism for leading an "exclusive" reform process.
Abhisit, who is supported by the conservative, mostly Bangkok-based Yellowshirt camp, became Prime Minister in December 2008 after the Constitutional Court ousted a Redshirt-backed government. He later called for a national election in July 2011, which Yingluck won in a landslide.
Yingluck, whose brother Thaksin Shinawatra is the icon of the largely rural Redshirt movement, served as Prime Minister until the same Constitutional Court removed her in May 2014 amid anti-government street protests organized by the Yellowshirts. The military seized power from the remnants of her government two weeks later in a coup d'etat, with the stated aim of restoring order and instituting widespread national reforms.
Gen. Udomdet said the talk show featuring politicians will air every Monday on Channels 5 and 11, which are owned by the army and the Department of Public Relations, respectively.
The plan is pending a final approval by junta chairman and Prime Minister Prayuth Chan-ocha, he said.
There was no immediate comment from Yingluck and Abhisit regarding the TV show.
Thailand's junta has also suspended democracy to pen a new charter, which critics say is decisively "anti-politician." Under the current draft, which will be put to a referendum next year, the Senate is a fully-appointed body, and Prime Ministers are not required to be elected MPs.