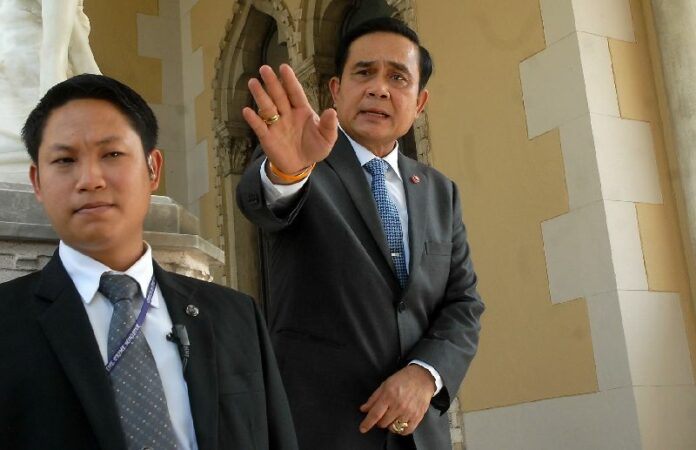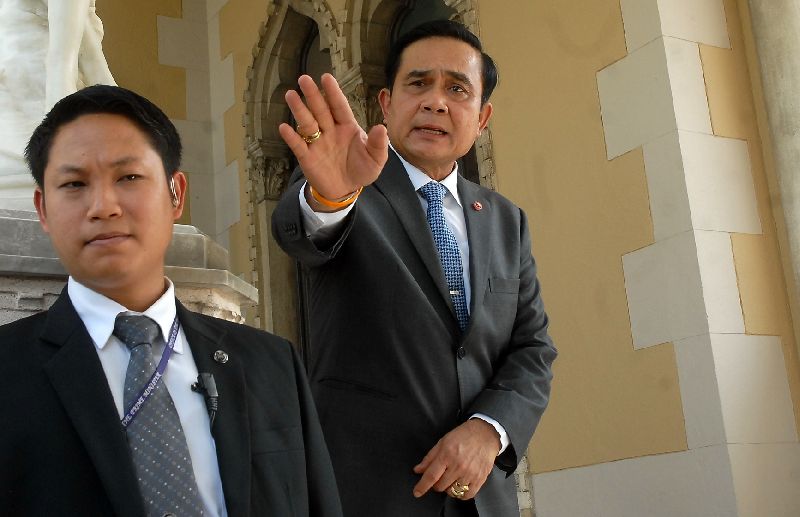 BANGKOK — Thailand's military leader Gen. Prayuth Chan-ocha has assured the public that a new law restricting political gatherings won't affect any "innocent" or peaceful protests.
"Many countries around the world have this law," Gen. Prayuth said at Government House today, referring to the Public Gathering Act of 2015, which was approved by his Cabinet last night.
"Don't look at it and think that officials want to restrict any rights," he continued. "If the rallies are innocent rallies, peaceful, unarmed, and in accordance with democracy, they can go forward. Who would forbid that? The only exceptions are rallies that don't have innocent intentions or are ready to escalate violence. We have learned lessons about that in the past, haven't we?"
The new law passed by the junta-appointed interim government prohibits public gatherings from blocking the entrances or disrupting the operations of state agencies, airports, ports, train stations, public transportation terminals, hospitals, educational institutes, religious buildings, embassies, headquarters of international organizations, and other venues that the authorities may declare as off-limit.
In addition, protests are not permitted within a 150-meter radius of any royal palace, or the residences of guests who have been formally invited by the Thai Royal Family.
The law also requires organizers to seek permission from authorities no less than 24 hours before the gathering is scheduled to start, and provide clear details of the rally's purpose, date, time, and venue.
Under the law, protesters can face legal action if they:
inconvenience other people who are using the public space where the gathering is being held

conceal their identities with the intention to avoid being identified,

though wearing traditional attire is always permitted

carry weapons, fireworks, firearms, or any objects that can be used as weapons in the rally site

cause other people to fear for their safety, property, or freedom

use violence or threaten to use violence against fellow protesters or other people

obstruct operations of officials in charge of overseeing the protests

demonstrate or move their rally site between 6.00 pm and 6.00 am, unless they have permission from officials in charge of the gathering

give speeches or organize any other activities that use loudspeakers between 12.00 am and 6.00 am

fail to follow any condition or order laid down by officials in charge of the gatherings
According to the legislation, the following gatherings are exempted from the regulations: state and royal ceremonies; religious, traditional, or cultural ceremonies; gatherings for entertainment, sports, tourism, and other commercial purposes; academic meetings; and gatherings that take place within educational institutions.
Violating the law carries penalties that range from six months to three years in prison. The punishment can be raised to ten years in jail if protesters are found guilty of disrupting public transportation, waterworks, telecommunication, or electricity systems.
Thailand has been rocked by a series of mass street protests for the past decade, staged alternatingly by the country's rival political factions, known as the Yellowshirts and the Redshirts. The protests have paralyzed major parts of Bangkok, including both of its international airports, and occassionally turned violent.
However, all political gatherings and protests have been banned since Gen. Prayuth came to power in a coup d'etat in May 2014. He stepped in as army chief after six months of protests had destabilized the elected government led by former Prime Minister Yingluck Shinawatra.
Speaking to reporters today, Gen. Prayuth touted what he sees as the laws many benefits.
"The burdens of officials will decrease. Rallies will be safe. Rallies won't be prolonged. I've seen in other countries, they don't have this many protests." He described how the last country he visisted, which was Japan, has "clear boundaries" for public gatherings and "orderly" protests.
"But our protests only focused on getting large number of people," Gen. Prayuth said. "It was chaotic."