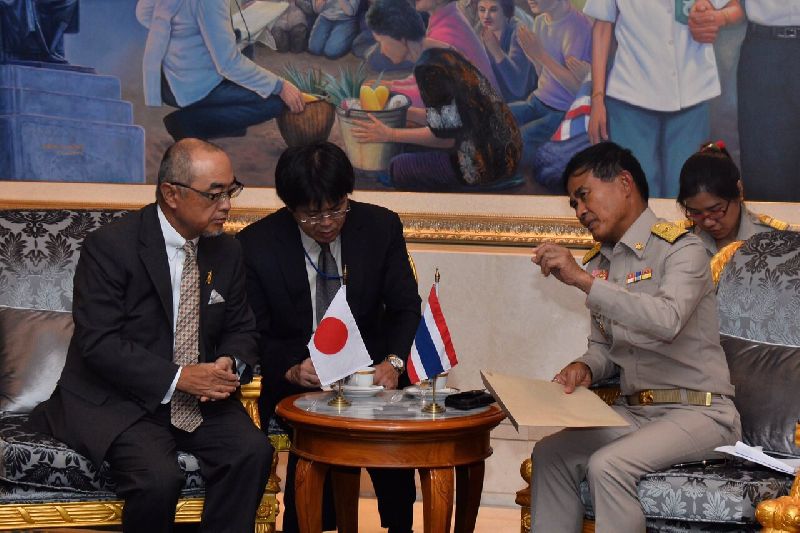 BANGKOK — A minister of Thailand's military government said he has asked the Japanese ambassador to "reconsider" whether it is appropriate for Japan to shelter an academic accused of insulting the Thai monarchy, a crime known as lese majeste.
Justice Minister Paiboon Khumchaya told reporters he raised the issue during a meeting with Japanese ambassador Shiro Sadoshima at the Ministry of Justice today.
According to Gen. Paiboon, Sadoshima visited to the Ministry to introduce himself as Japan's new ambassador to Thailand. Gen Paiboon said he took the opportunity to discuss Pavin Chachavalpongpun, a Thai academic living in Japan who the Justice Minister accused of insulting the monarchy, a crime punishable by up to 15 years in prison under Section 112 of the Thai Criminal Codes.
Pavin is currently an associate professor at Kyoto University in Japan, where he has lived since 2012. Over the past year, he has regularly criticized the junta and written about the monarchy on social media and in foreign publications, including the New York Times, but never been formally charged with lese majeste.
He is however facing legal action for failing to report for one of the junta's "attitude adjustment" sessions in the wake of the May 2014 coup. His Thai passport was revoked shortly thereafter.
"I provided the Japanese ambassador with a list of suspects who have fled to Japan," Gen. Paiboon said today. "The list contains one name, which is Mr. Pavin Chachavalpongpun."
"I also explained that Section 112 is not a political case," he continued. "I believe Japan will understand us. However, I am aware that Japan also has laws related to political asylum."
He added that he did not explicitly request the Japanese government to arrest Pavin and extradite him, but merely asked Japanese authorities to review the situation.
"I did not give away this list so that they will arrest him. I did it so that Japan will understand and think about whether it is appropriate for these individuals to misuse their political asylum. I want them to understand Thai people's feelings."
Gen. Paiboon did not comment on Sadoshima's response to the request, but noted that the Japanese ambassador did ask about Hiroyuki Muramoto, a Japanese cameraman who was killed during the military crackdown on Redshirt protesters in Bangkok in April 2010.
"I told him that the case is in the court process now. It's under the procedure of inquest," Paiboon said, even though the court inquest concluded in April of this year. The court ruled that there was insufficient evidence to determine who was responsible for Hiroyuki's death.
Since the 2014 military takeover, the Thai junta has rigorously enforced the Kingdom's lese majeste law, which is the harshest law of its kind in the world.
In the past year, at least 49 people have been charged with the offense, according to iLaw, a watchdog group that tracks legal cases in Thailand. The junta has also granted military courts jurisdiction over lese majeste cases, citing the crime's "threat to national security."
The regime has unsuccessfully sought the extradition of lese majeste suspects who have fled to countries like Cambodia, the United Kingdom, New Zealand, and France. On 13 July, the eve of Bastille Day, Gen. Paiboon raised the issue with French ambassador Thierry Viteau, who explained that France does not have an equivalent law.
CORRECTION: Pavin

Chachavalpongpun

did not leave Thailand shortly after the May 2014 coup, as was originally reported. He has been living in Kyoto, Japan since 2012. He also has never been formally charged with lese majeste, only accused of committing the crime.