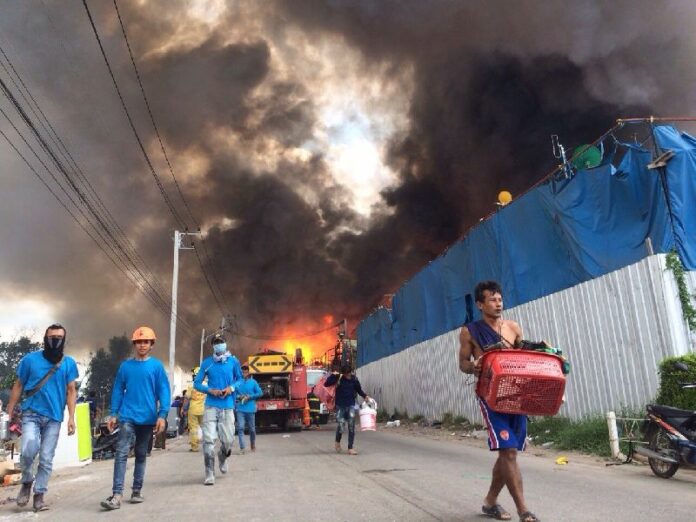 PATHUM THANI — A massive fire burned down parts of a laborers' camp in Pathum Thani province that was home to over 1,000 construction workers, the majority of whom are immigrants from neighboring countries.
The blaze started yesterday afternoon in the center of the camp, which is located in Thanyaburi district near a construction site overseen by the estate company Lumpini Township.
The camp is home to an estimated 1,200 workers, many of whom are from Myanmar and Cambodia, who live in tightly packed rows of houses constructed out of wood and iron.
Fifteen firetrucks were dispatched to contain the fire, and loud explosions could be heard intermittently as cooking gas canisters inside many homes exploded, forcing firefighters to slowly work their way into the blaze area. The fire was eventually put out after several hours. Five people have been hospitalized for inhaling smoke.
The deputy mayor of Rangsit municipality, Decha Klinkusum, said that some workers from the camp are missing, but no dead bodies have been found so far.
He also told reporters the fire may have been triggered by an explosion in the camp's single power transformer, which was providing electricity to numerous homes and may have overheated.
Some workers reportedly ran into the nearby wooded area while the fire was raging and hid until soldiers arrived and reassured them that they would not be punished for lacking proper documentation.
An emergency shelter has been set up in the parking complex of a nearby Lumpini Township estate for workers whose homes burned down in the fire.
The Governor of Pathum Thani and other officials visited the shelter today to ensure that the workers are being provided with adequate food, clothes, and other necessities.
According to the Governor, Pongsatorn Sajjacholapund, the shelter has been receiving goods and donations from the Ministry of Social Development and Human Security, Red Cross Society, local rescue workers foundations, and people who live nearby.
He said new camps for the workers are expected to be finished within the next week.
For comments, or corrections to this article please contact: [email protected]