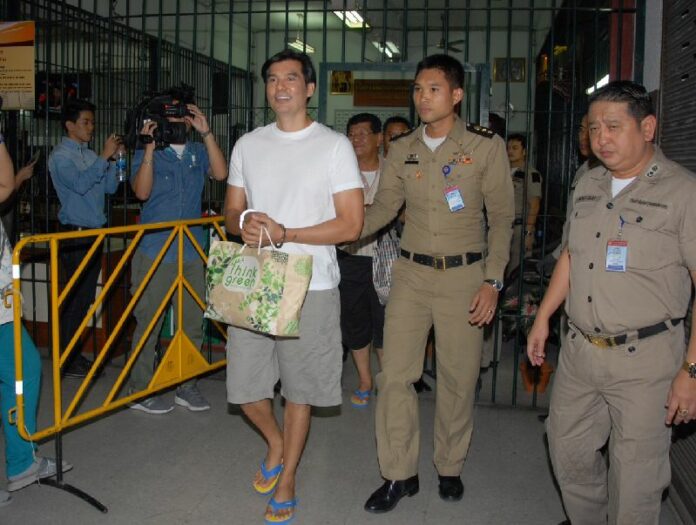 BANGKOK — Thailand's Justice Minister has advised two Pheu Thai Party politicians who were recently jailed for libel to file for a royal pardon from the Thai King.
Pheu Thai's spokesperson, Prompong Nopparit, and former Pheu Thai MP Kiatudom Menasawasdi were sentenced to one year in prison in Supreme Court last week on defamation charges for telling reporters in 2010 that a judge met privately with Democrat Party politicians who asked him to drop a lawsuit against their party.
The constitutional court judge, Wasan Soipisutthi, charged the politicians with defamation a week later. A lower court handed them two year suspended jail term, which they appealed up to the Supreme Court that sentenced them to one year in prison last Friday.
The two men are currently being held at Bangkok Remand Prison.
Today Justice Minister Paiboon Khumchaya said that although Prompong and Kiatudom cannot appeal their case to a higher court, they are eligible to apply for a royal pardon "like all other Thais."
Every year, King Bhumibol, 87, pardons thousands convicts on the recommendations of government officials and the Royal Household Bureau.
Gen. Paiboon insisted that Prompong and Kiatudom will not be treated unfairly because of their political affiliation with the Pheu Thai party, which led the elected government toppled by the ruling military junta in May 2014.
Speaking at press conference today, Gen. Paiboon urged the politicians to file applications for a royal pardon.
"Please send us the applications," he said. "I never divide who is who. I want everyone to see that Mr. Prompong [and Mr. Kiatudom] are Thai citizens who have rights like all other Thais to apply for the royal pardon."
Last Friday, on the same day that the pair was convicted, the Supreme Court acquitted three leaders of the rival Democrat Party, including former Prime Minister Abhisit Vejjajiva, in defamation suit that was filed by former executives of Thai Rak Thai Party, the predecessor to Pheu Thai Party that was dissolved by the Constitutional Court in 2007.
The plaintiff said that Abhisit and his deputies, Suthep Thaugsuban and Ongart Klampaiboon, falsely accused Thai Rak Thai of hiring small political parties to run in the 2006 election, which was boycotted by the Democrat Party. The Supreme Court judges ruled that the accusation was a criticism made "with sincere intention" and therefore did not qualify as a libel.