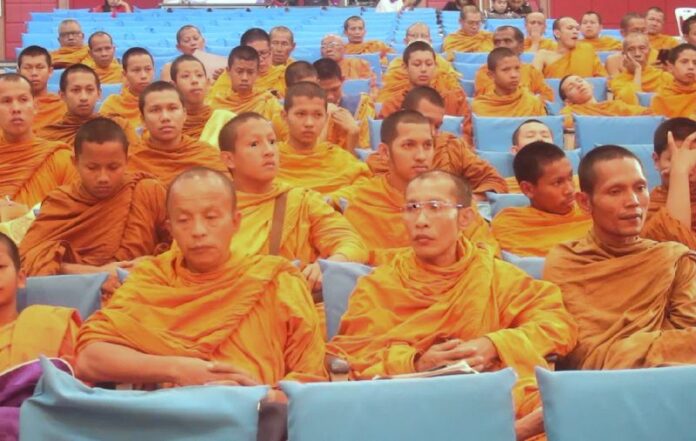 NAKHON SI THAMMARAT — Police in southern Thailand have asked Buddhist monks to help promote road safety by explaining to temple-goers that accidents are caused by recklessness, not bad karma.
Pol.Col. Wanchai Ekpornpitch, deputy commander of Nakhon Si Thammarat police force, told over local 90 monks in an auditorium today that police are looking to cut traffic accident fatalities by half by the year 2020.
"We want to encourage 100 percent of motorcyclists and their passengers to wear motorcycle helmets, so we invited the monks to listen to accident statistics and other measures, because religious institutions are very important in spreading information, through sermons, discussions, and other public relations efforts with people who make merit at temples," Pol.Col. Wanchai told reporters.
He explained, "They [monks] should hand out the idea that when people don't wear motorcycle helmets, and they go on to have accidents that cause deaths and injuries, it was not because of karma. It was because of reckless behavior."
Pol.Col. Wanchai said he hopes monks who attended today's conference will be able to "accurately and successfully spread the information."
According to Pol.Col. Wanchai, an average of 2 people are killed every day in road accidents in Nakhon Si Thammarat province.