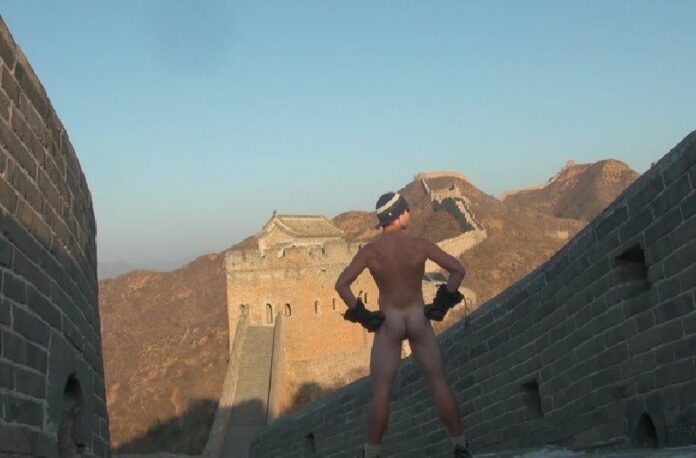 BANGKOK (DPA) — Many exports of Western civilization have been well received in Asia: indoor-plumbing, the internet and the HBO series Game of Thrones to name just a few.
However, a recent trend among tourists to strip naked and pose alongside the world's major landmarks has drawn the ire of governments and residents across the region.
After an earthquake that struck Malaysia's Mount Kinabalu on June 5 claimed the lives of 18 people, regional deputy chief minister Joseph Pairin Kitingan blamed it on the naked derrieres of a few Western exhibitionists.
Kitingan said the mountain had been angered by the foreigners who "showed disrespect to the sacred mountain" by uploading naked selfies taken there to social media.
Masidi Manjun, Sabah state minister of tourism, culture and the environment, explained that the indigenous people believe Mount Kinabalu is the final resting place of departed souls, and thus the tourists' actions were "sacrilege."
The perpetrators were eventually caught, fined and expelled from Malaysia – fully clothed – amid a scrum of media coverage.
All the commotion surrounding the case felt overblown to people like Canadian Emil Kaminski, one of the first and most prominent figures in the naked-tourism phenomenon, who say the growing social media trend is "just for laughs."
"[It started] because no one else did it at the time. [We were] tired of the same old boring photos … that everyone does," Kaminski, a videographer for the Monkeetime travel blog, told dpa.
He acknowledged that there are some limits. He would not advocate walking around a crowded tourist area in the buff, but if alone in a secluded place, then "why not?"
The trend has seemingly caught on. A Facebook group calling itself Naked at Monuments has received thousands of followers while the photo-sharing website Instagram is littered with naked bottoms from around the globe.
As a major destination for travellers, South-East Asia has been inundated with tourists looking for a good time.
From Penang in Malaysia, to Chiang Mai in Thailand and Angkor Wat in Cambodia, tourists have been caught in various stages of undress by local authorities who are shocked at the growing trend.
Since the beginning of the year, three French and two Americans have been arrested at the Angkor Wat temple complex that dates to the 12th century.
One 22-year-old Canadian student who declined to be named also posed naked at Angkor Wat with her friends, but was not caught by authorities.
"We were just having a bit of fun," she says. "The weather is so hot and we saw it on social media so we thought we would try it too."
According to Maria Lombard of Northwestern University, the need for tourists to connect with locations "in a tangible way" and the ire that it draws are not new or unique.
Lombard points out that tourists have been carving initials into landmarks and historical sites for ages.
"This desire to show that "I was here" is not new; just the mode for expressing it is."
But such reassurances are no comfort to tourism officials across the region who argue that such stunts have no place for monuments that natives consider sacred.
"Everywhere on Earth, when someone takes off their clothing and becomes nude in public, it offends," said Phay Siphan, a spokesman for Cambodia's Ministry of the Interior.
"Angkor Wat is a World Heritage site and it has [important] cultural value," he said. "Nudity is not a cultural value."
Local officials are also puzzled why Western tourists who flaunt their bits at revered sites in Asia refrain from doing so in their own countries in front of landmarks like St Peter's Basilica.
"They don't seem to strip off much in the Notre Dame or Hagia Sofia or any other place I can think of," said Lawrence Osborne, a bestselling author who has written extensively about the clash of culture and identity in South-East Asia.
"Modesty and restraint are still respected virtues in the East, so stripping naked at tourist sites that are sacred or highly visible is not only taboo in these countries but a "loss-of-face" for local officials."
But what started as fun and games for Kaminski and his followers has quickly become a rallying cry in a fight against traditional conservatism.
After Malaysians blamed the earthquake on naked tourists, Kaminski took to the internet to ridicule such statements, engaging in a Twitter tussle with state tourism minister Masidi Manjun.
"While it started as a goofy thing to do with friends, at this point it has evolved into a statement about people needing to stop being Taliban-like and update their ancient social norms."
(Reporting by Cod Satrusayang)