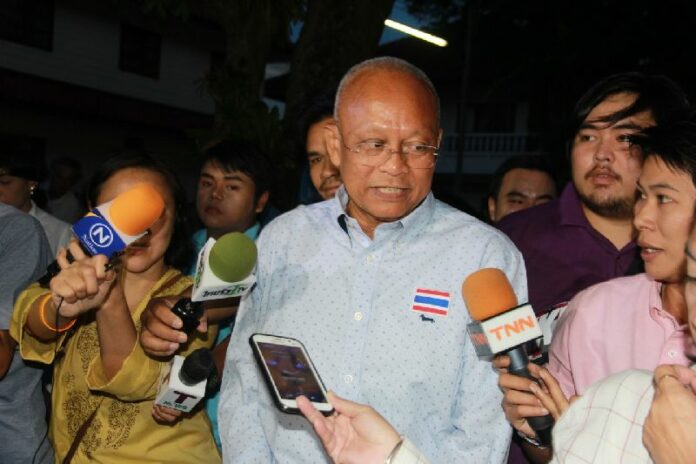 BANGKOK — The former leader of the conservative protest movement that brought about the 2014 coup d'etat left the monkhood today after spending a year at a monastery in southern Thailand.
Suthep Thaugsuban is famous for leading street protests against then-Prime Minister Yingluck Shinawatra from November 2013 to May 2014, when the military intervened with the stated aim of restoring peace and order. The following month, Suthep became a monk at a forest monastery in Surat Thani province.
Speaking to the press after his disrobing ceremony this morning, Suthep said he plans to join a foundation that other former protest leaders have established to promote vocational education and other grassroots projects. Later in the evening Suthep took to his official Facebook account to declare that he's done with politics.
"I was in monkhood for one year and thirteen days. I have presided over ceremonies … at over 500 temples. I have conducted merit making for many of you." Suthep wrote.
"After leaving the monkhood, I will work with the Foundation of the Great Mass of the People for Reform of Thailand. I will never go back to run in an election ever again. But I will be working in civil politics alongside the Great Mass of the People for the benefit of our country."
Prior to his foray into street protest, Suthep was deputy chairman of the pro-establishment Democrat Party, followed by Deputy Prime Minister from 2008 – 2011.
After Yingluck's government tried to pass a controversial amnesty bill that would have absolved the corruption conviction of her brother, former PM Thaksin Shinawatra, Suthep resigned from the Democrat Party to lead mass street protests against the measure.
Although the protests were sparked by criticism of the amnesty bill, the movement later escalated into a full-scale anti-government demonstration that demanded Yingluck and her government be removed. Suthep called for replacing Yingluck with a royally-appointed Prime Minister, and allowing an unelected "People's Council" to spearhead a series of national reforms.
Suthep also led demonstrators to boycott the February 2014 snap election called by Yingluck in response to the protests.
Speaking to reporters today, Suthep said he plans to contest the charges that have been filed against him in relation to his protest campaign, which include insurrection and breaking into state buildings, among others.
"I don't want any amnesty for me, even though some of my charges carry maximum penalty of execution of life sentence," Suthep said. "There should not be any amnesty for people who are charged with lese majeste [insulting the monarchy] and other serious offences either. It should be processed in accordance with the laws. But as for ordinary people who joined political struggle, there should be amnesty for these people."
For comments, or corrections to this article please contact: [email protected]
You can also find Khaosod English on Twitter and Facebook
http://twitter.com/KhaosodEnglish
http://www.facebook.com/KhaosodEnglish