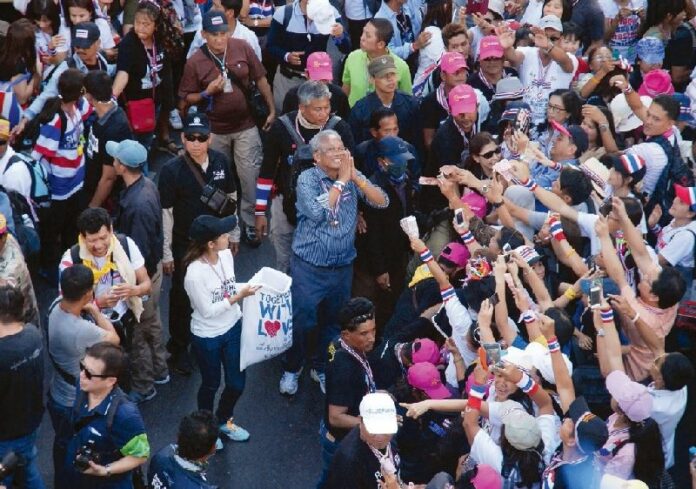 BANGKOK — Leaders of the Redshirt movement said they will test the ruling junta's impartiality by calling their own news conference in response to one held last week by archrival Suthep Thaugsuban.
By allowing the man who led street protests culminating in the 2014 military coup d'etat to broadcast his return to public life, Redshirt leader Nattawut Saikua said on Saturday the military government applied a double-standard and vowed to respond in kind.
Angry that Suthep and his former protesters seemed to be resuming the same political activities – even wearing the same shirts worn during the protests – Nattawut, a leader of the United Front of Democracy Against Dictatorship, or UDD, said it would only be fair for the military government to give his group permission to discuss a topic of their choosing.
"So, next week I intend to invite all UDD leaders to wear red shirts and host a press conference about red-whiskered bulbuls in Thailand. I am sure I will get permission. I will let you know about the details later."
A government spokesman said it would allow any activity that does not cause unrest or violate its rules. Officials have said they allowed Suthep to hold his news conference on July 30 because it was nonpolitical.
Held days after he ended a year in the monkhood following the coup, Suthep said at the conference he would not return to parliamentary politics and would devote himself to charitable works instead. Yet he also urged the military government to remain in power longer to complete its national reform efforts before new elections are held.
"We want to see this government successfully reform the country before any election, no matter how long it takes," Suthep said.
Jatuporn Prompan, chairman of the UDD, told reporters today that Nattawut's call for press conference was an attempt to highlight the uneven standard applied by the junta to supporters of the former civilian government.
"He wants to communicate the issue about this double standard," Jatuporn said. "He used the red-whiskered bulbuls as an example. Everyone knows it's not a political issue. We want to ask, if we want to talk about an issue, can we do it?"
Meanwhile former Suthep ally and one-time head of the Democrat Party, Abhisit Vejjajiva rejected Suthep's suggestion the junta remain in power for more time.
"The NCPO and the prime minister should stick to the existing roadmap and then return power to the people. I am sure our society will agree with me." Abhisit said Saturday. "Under the current roadmap, an election will take place in September 2016, and a new elected government will be formed in early 2017."
Since staging the coup against the Redshirt-backed government in May 2014, the junta has strictly enforced its ban on political activities. Soldiers and police have interfered with nearly 100 public discussions and forums in the past year, on the grounds that they may affect "peace and order" in the country, and some violators of the ban have been sent to stand trial in military court.
Supporters of the Redshirt movement routinely accuse the junta of selectively applying the ban on political activities only to them, while making exceptions for their rivals.
As for Suthep, Junta spokesman Col. Winthai Suvaree said he was "simply expressing his usual attitude" and urged the public to evaluate the message – not the man.
"I want people to look at the content, not the individuals," he said. "If anyone believes Suthep's action violated the NCPO's policies, they can file complaints with us."
As for Nattawut's proposed ornithological discussion, Winthai said the regime would allow any activity that does not cause unrest or violate its rules.
"If he wants to do some activity, he can ask NCPO for permission," he told reporters Saturday. "We will deliberate on the details."
Related news:
Suthep Stresses 'Reforms Before Elections,' Unveils Plans for New Foundation
Red-whiskered bulbul photo by Sandeep Gangadharan

For comments, or corrections to this article please contact: [email protected]