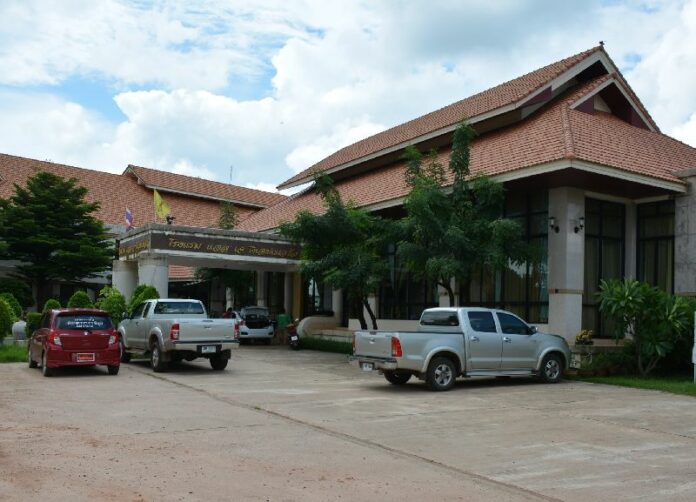 BANGKOK — The owner of a hotel in northeastern Thailand filed a libel complaint today against a celebrity singer for claiming the hotel is haunted.
A lawyer for the LJ the Emerald Hotel in Amnat Charoen province filed a complaint today with the technology crime division in Bangkok, alleging country singer Chanatcha Wongsawasdikul damaged the hotel's reputation by posting online about ghost sightings at the hotel.
"This is not true, because the LJ the Emerald Hotel is a five-star hotel and has a great reputation in Amnat Charoen," Chartchai said. "It has also won awards in the past."
Kandy Rakkaen's music video for the euphemistically named "I Can Help Myself"
Chartchai said that Chanatcha, better known as "Kandy Rakkaen," recently posted messages saying that the hotel was substandard and haunted by ghosts. No such posts can currently be found on her Facebook page.
The post has caused great damage to the hotel's business, the lawyer said, and his client demands the singer pay nearly 1 million baht in damages.
"Many customers canceled their room bookings and conference reservations. We want compensation of 990,000 baht. And the hotel [owners] would like to insist that they have no intention to put Ms. [Chanatcha] in prison. They only want to protect the reputation and interest of the hotel," Chartchai said.
The website for the LJ the Emerald Hotel in Amnat Charoen province, where every day is Valentine's Day, shows what it describes as "five-star" accomodations. Photo: LJ the Emerald Hotel
Police Lt. Sombat Sombatyotha, an officer at the technology crime division, said the complaints against Chanatcha included libel and violating the Computer Crime Act, which prohibits disseminating false information online.
"We are collecting all the evidence, and we will summon [Chanatcha] for interrogation in the future," Sombat said.
For comments, or corrections to this article please contact: [email protected]