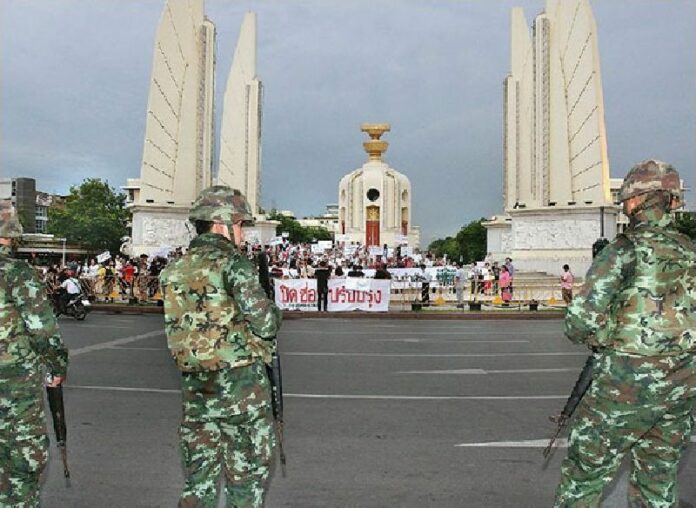 BANGKOK — Organizers of the upcoming referendum on what would be Thailand's 20th constitution said they remain unsure whether to put a "reform before election" question onto the ballot.
One group of junta-appointed reformers wants to keep it to an up-or-down vote on the new charter, according to an official involved in the process, whereas another group wants to ask voters if they want the military junta to stay for two more years to complete its national reform effort.
"This is a sensitive issue," said Alongkorn Pollabutr of the National Reform Council, a body assigned by the military junta to deliberate the new charter and recommend
He said the first group argues that if the "reform" question added, it will reflect negatively on the government and have a corrosive effect on Thailand's political climate. Meanwhile the second group believes getting voters' political opinions would justify the poll's 3 billion-baht price tag.
"Right now, the two opposing thoughts remain unsettled," Alongkorn said.
The Thai military junta dissolved Thailand's previous constitution when it seized power from the elected government in May 2014, and later appointed a body to draft the new one.
A referendum for the new charter – Thailand's 20th since democracy was first established in 1932 – is set for January 2016.
However Pornpetch Wichitcholchai, chairman of the junta-appointed legislature, said Sunday that whatever voters preferred, such a measure on the ballot would have no legal authority.
The reform council will vote whether to endorse the new constitution on 7 September, Alongkorn said, though that date might change due to the illness of National Reform Council chairman Thienchay Kirananda.
"Some members think they should wait for Mr. Thienchay to approve the date first," Alongkorn said.
That endorsement is the final step before the charter goes to a vote.
The junta has promised a new election in late 2016, so long as voters approve its constitution. It has not made clear what would happen if the charter is rejected.
However, a hardline faction within the National Reform Council wants the junta to stay in power for two more years to complete "national reforms" before holding an election. The faction is led by Wanchai Sornsiri, who told the media earlier this week that if an election is held before reforms are completed, the 2014 coup d'etat would have been in vain.
"If they let an election go forward, even though national reforms are not finished and conflicts are not solved, the last coup d'etat would be a failure," Wanchai said Sunday. "In order to solve all the problems and let this country move forward, the [junta] should solve all the root problems that led to the coup before they lead our country to an election."
Wanchai's comments came days after conservative activist and former politician Suthep Thaugsuban re-entered the public fray to call for "reform before election."
Related stories:
Army Chief Says Elections Could Be Delayed
Redshirt Leaders Vow Response to Suthep Speech
Interim Parliament Chairman Rejects Suthep's Call for 'Reform Before Election'
Suthep Stresses 'Reforms Before Elections,' Unveils Plans for New Foundation
For comments, or corrections to this article please contact: [email protected]