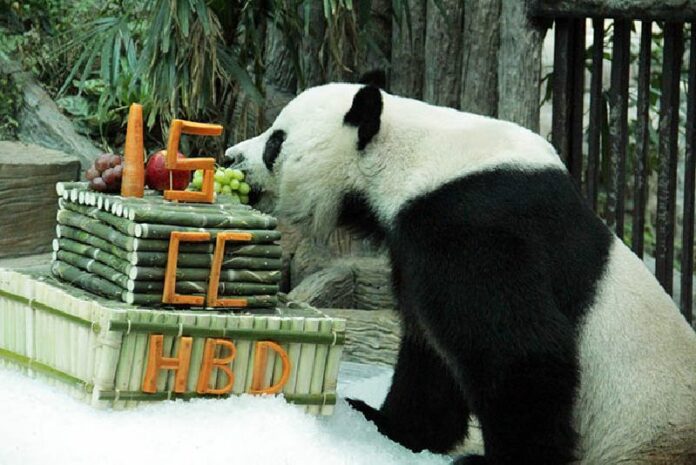 CHIANG MAI — Celebrity teen panda Chuang Chuang celebrated his 15th birthday with presents and a bamboo birthday cake today at the Chiang Mai Zoo.
Born in Chengdu, China, in 2000, Chuang Chuang has called Chiang Mai home since 2003 when he arrived as part of China's panda diplomacy.
Becoming Thai meant picking up a few extra names – Chuang Chuang now goes by the Thai name of "Tewan" and Lanna name of "Kam-ai."
Zoo officials presented him gifts containing his beloved apples and carrots along with a bamboo-wood cake perched atop a pile of snow.
Pandas really love snow.
Also on Panda Watch is Chuang Chuang's mate, maybe-mama Lin Hui.  In July zoo officials announced they'd successfully inseminated her and were expecting a cub between August and October.
"She has gained around 3 kg and she sleeps more." zoo director Nipon Wichairat said today, adding that her condition is being evaluated twice daily.
Veterinarians have long been pregnant with anticipation to see her reproduce again after she gave birth to Lin Ping in 2009.
Reproductive capacity is not something pandas are famous for; females ovulate once per year.
Early last year the public was told she was pregnant and after many false alarms, pandaphiles everywhere were crushed when the zoo announced she'd suffered a miscarriage.
Days after being artificially inseminated last month, Lin Hui learned that she and Chuang Chuang were now grandparents twice over: Lin Ping, now back in China, gave birth to twins.
A year ago China offered to return Lin Ping and her mate to Thailand for 15 years at the price of 64 million baht per year for both pandas, double what they originally cost.
'On my birthday, could you not poke me with a … oh, more presents for ME?!'
Related stories:
Chinese Report Success in Breeding Captive Giant Pandas
Heartthrob Panda 'Nervous' In Her Chinese New Home