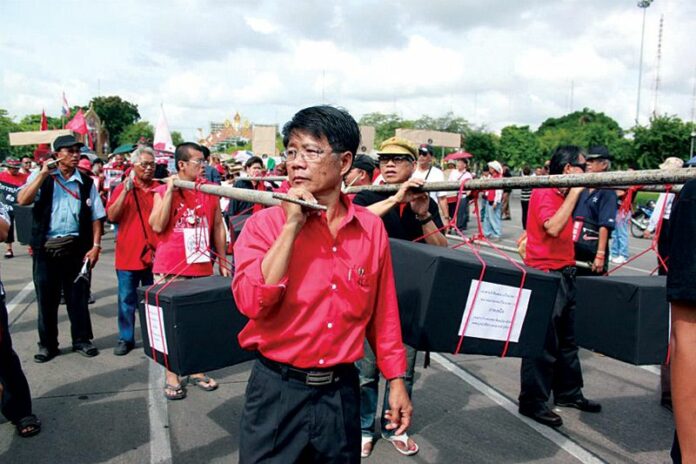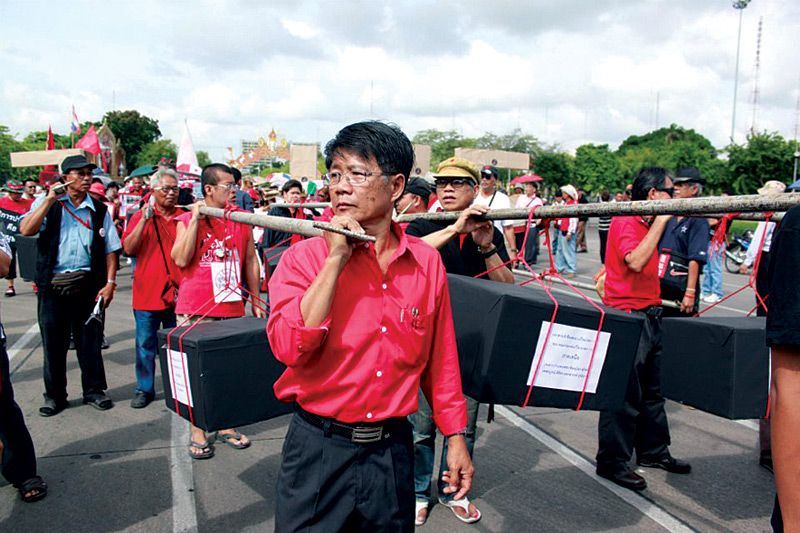 BANGKOK — A military tribunal today sentenced a man to 30 years in prison, one of the longest such sentences in recent years, for allegedly insulting the Thai monarchy on his Facebook.
The man, identified only as Pongsak from Kanchanaburi province, was convicted for posting six messages to Facebook defaming the royal institution, according to iLaw, an advocacy group tracking legal cases involving political offenses in Thailand.
The man was arrested in December 2014 and held for questioning at an army camp for seven days, according to iLaw. He was later charged with lese majeste (insulting the monarchy), which carries a maximum penalty of 15 years in jail per offense, before being sent to stand trial under a martial court in Bangkok.
Today the military judges found him guilty as charged and sentenced him to 60 years in prison – 10 years for each message. iLaw reported that the sentence is the toughest penalty for lese majeste in recent history.
Since Pongsak pleaded guilty, the jail sentenced was eventually reduced to 30 years.
Reporters were not allowed in the courtroom because the military court declared the trial would be held in secret due to the "sensitive" nature of the case, iLaw said.
After seizing power from an elected government in May 2014, junta leader and hard-line royalist Gen. Prayuth Chan-ocha granted military courts jurisdiction over criminal cases that affect national security, including lese majeste.
Thailand's lese majeste law is among the most draconian of its kind in the world. Those who have been charged with the crime have rarely been granted a bail, and those convicted often receive harsh sentences.
In May a man was sentenced to 25 years in prison for Facebook posts the martial court deemed lese majeste. That penalty was also halved from 50 years because the Facebooker pleaded guilty.
Just yesterday, another military court in Chiang Mai province sent another man to prison for five years on a lese majeste conviction for destroying a portrait of His Majesty the King a year ago, despite his lawyers' insistence the man suffered from a mental disability.
Thailand's current monarch, the 87-year-old King Bhumibol, is widely revered as a demi-god in the kingdom, where he has sat on the throne for more than half a century.
His Majesty is currently being treated for poor health in a hospital in Bangkok, a cause of anxiety for many Thais who have never lived under another monarch. The king was last seen in public on 10 May.
Related stories:
Man Gets Five Years for Destroying Thai King Portrait
Thai Minister Asks French Diplomat to Extradite Lese Majeste Suspects
Prayuth: Thai Lese Majeste Suspect Living in Exile 'Not a Thai'
Thai Royalists Thank Prayuth for Suppressing Discussion of Monarchy
66-Year-Old Bookseller Sentenced to 3 Years for Lese Majeste
Redshirt Gets 25 years For Posting Lese Majeste on Facebook
To reach us about this article or another matter, please contact us by e-mail at: [email protected]