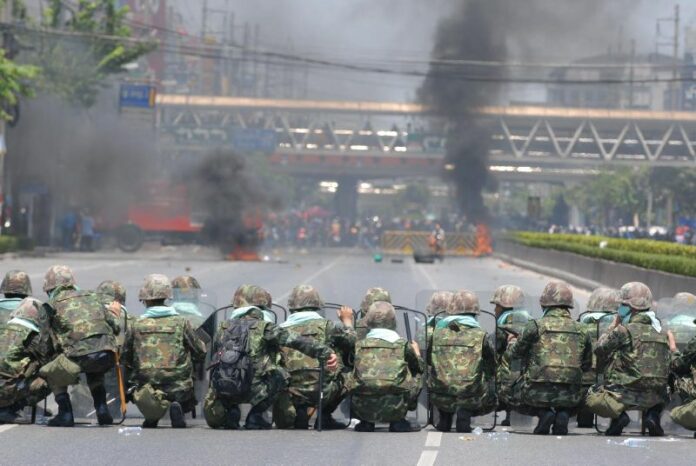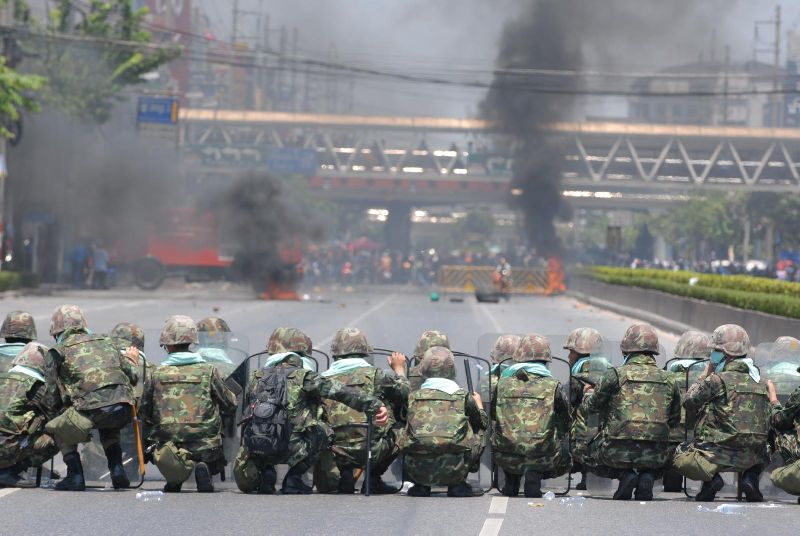 BANGKOK — A top official has refuted a viral social media post which claimed she said "only rubber bullets were used" by security forces during the 2010 military crackdown that left more than 90 people dead.
Suwana Suwanchutha, director of the Division of Special Investigation, said she never made a remark that has been widely shared by Redshirt supporters on social media in recent weeks.
"I have never said anything about that issue, because it concerns legal cases," Suwanna said yesterday. "I would never have spoke about it."
Suwanna, whose agency has been tasked with identifying perpetrators behind the killings in 2010, said she recalled giving interviews to the media recently, but she has never mentioned anything about the rubber bullets.
The false statement appears to be stemmed from a report first published by ASTV Manager news site on 29 July.
The first part of the report quoted Suwanna as saying that she and her team will continue investigating who was responsible for the more than 90 deaths resulting from the 2010 military crackdown. However, the last paragraph of the article quoted an unnamed "source" as saying that soldiers never fired a live round at the protesters throughout the crackdown, and that only rubber bullets were used.
The report later appeared on Matichon website, and it soon surfaced on Facebook, attributed falsely to Suwanna.
"If live rounds were used, tens of thousands would have died. But in reality, only 100 people died, and 2,000 were injured. I insist that only rubber bullets were used. There was no use of live round," the post attributed to her.
One such post, which appears on a Facebook page run by Redshirt activists, was shared by 400 people and received more than 4,000 likes. Many users vented anger toward Suwanna in the comments.
Images misattributing a quote to DSI Suwana Suwanchutha such as this one posted 4 Aug to a Redshirt group on Facebook.
The military crackdown on Redshirt protests in 2010 remains a deeply polarizing subject in Thailand, where political fault lines are mostly divided along the lines of two rival factions, the Redshirts and the Yellowshirts.
Redshirt demonstrators staged rallies in Bangkok in March 2010 to demand that then-Prime Minister Abhisit Vejjajiva call a fresh election. On 10 April, 2010, Abhisit, whose government was widely backed by Yellowshirts, ordered the military to disperse the protesters but later called off the operation after soldiers came under attack from armed militants waging a shadowy campaign against security forces.
The main stage at the center of a large encampment of Redshirt protesters at Ratchaprasong intersection on Rama I Road on the afternoon of 19 May, 2010, after it was abandoned. Redshirt demonstrators occupied the streets for over a month calling for new elections. Photo: Todd Ruiz
The military mounted another assault on 19 May 2010, which forced Redshirt leaders to announce their departure while hundreds of their supporters remained in the streets. Sporadic violence continued into the night. Four protesters and two medics among a group which sought shelter in a nearby temple were shot and killed before the situation was brought under control.
More than 90 people, mostly civilians, were killed in the two months of violence. Fatalities included demonstrators, soldiers, bystanders, rescue workers and two foreign journalists. Dozens of buildings were also torched in Bangkok and some provinces during the military assault on the Redshirt encampment on 19 May.
Although photographic evidence and eyewitness accounts indicate that a majority of fatalities were caused by security officers' use of live ammunition, prominent Yellowshirt activists and military commanders involved in the crackdown insist security forces is not responsible for the deaths.
"Ever since I joined the army, I have never seen anyone ordering soldiers to kill the people," said then-army chief Gen. Prayuth Chan-ocha in 2012. "So, to those who still think that soldiers killed people, please stop saying it."
A fire started by arsonists consumes the mall then known as Central World Plaza. Photo: Todd Ruiz
Gen. Prayuth was one of the commanders who oversaw the 2010 crackdown. He is now serving as junta chairman and Prime Minister, having seized power from an elected government in May 2014.
Some relatives of those killed in the 2010 crackdown also met with Suwanna, the DSI chief, yesterday, urging the official to investigate the cases impartially.
"I don't want this to become a political case," said Pansak Srithep, father of a 17-year-old boy shot dead in the crackdown.
Suwanna replied, saying that some of investigations may be suspended in the future because no perpetrator could be found.
"However, the effort to find the perpetrator to be punished will still proceed. It doesn't mean that the end of investigations will mean the end of legal cases," Suwanna said.
To reach us about this article or another matter, please contact us by e-mail at: [email protected].